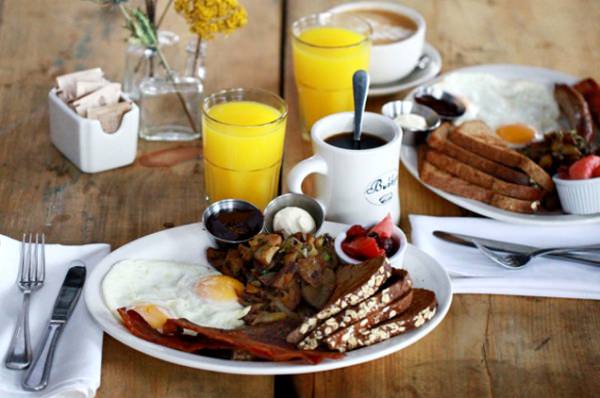 A guide to Portland, Oregon breakfast and brunch spots including food and drink specials, family-friendly locations, adults-only/21+, and more.
—————————
East Burn | 1800 East Burnside | (503) 236 2876 | www.theeastburn.com/eat
Everyday
11 a.m. – 3 p.m. Weekdays
10 a.m. – 3 p.m. Weekends | All-ages
Come join us for a fantastic menu along with build your own bloody mary menus. $2 mimosas with purchase of any brunch item between 10am and 3pm. More info and menu.
—————————
Swift Lounge | 1932 NE Broadway| (503) 288-3333 | swiftloungepdx.com
Every Saturday & Sunday
9 a.m. – 3 p.m. | 21 and over
Swift Lounge presents the ultimate hangover cure for your weekend shenanigans. No kids, no dress up, no small talk, no bull-corn. Hangover brunch is here from 9 a.m. to 3 p.m. every Saturday to provide you with hearty breakfast fare and libations to prime you for yet another night on the town. More info and menu.
—————————
Nonna | 5513 NE 30th Ave, Portland | nonnapdx.com
Brunch every Saturday & Sunday from 9 a.m. – 3 p.m. & Lunch on Fridays from 11 a.m. – 3 p.m.
Nonna is the newest spot on an ever-growing Concordia corner. Nonna, the more-casual sister spot to the acclaimed Italian restaurant DOC, mirrors many of DOC's charms, but embraces a "tavern" atmosphere, with a horseshoe-shaped bar, high-top seating, and upholstered banquettes. Click here to see the Brunch menu.
——————————————-
Bluehour | 250 NW 13th Ave, Portland, OR 97209 | bluehouronline.com
10 am to 3 pm every Saturday and Sunday
Starting Saturday, June 25th Bluehour will introduce WEEKEND BRUNCH, featuring 23Hoyt's popular $2.00 mimosas and a great selection of delicious breakfast and lunch items on our new brunch menu, to be served from 10 am to 3 pm every Saturday and Sunday. Click here to see the brunch menu.
——————————————-
Our new Portland Events App for PDX Pipeline is now available for iPhones, Android phones and iPads!
Now, you can have all of the great Portland events, specials, and info from our website in the palm of your hand when you're out on the town.
–————————————
—————————————————–