Portland International Airport is Now Hiring | Featuring 70+ Openings, Fun Work Environment, Voted America's Best Airport
Fromm our sponsors: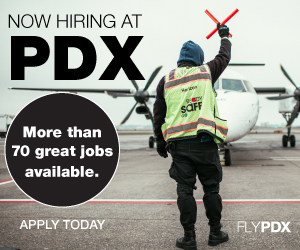 PDX Airport Now Hiring
More info: jobs.pdx.com
If you want a fun work environment with a team that feels like a family, the Portland International Airport is the place for you. From barista and baggage handler, to rental car and ramp agent, PDX is home to an award-winning team. And we have more than 70 jobs open right now.
Why work at PDX? Here are just a few reasons.
You want to work with a great team. For seven years in a row, PDX was voted America's Best Airport by travelers. That's because we have a team of amazing people who work at the airport.
You want great food and discounts. Our award-winning concessions program features the best of local and national shops and restaurants. And employees at PDX get access to discounts at most shops and restaurants.
You want some variety. With more than 100 organizations to choose from, PDX provides a wide range of exciting work experiences. Whether you're interested in airlines, support services, federal agencies, or just about any other type of job there is, opportunities abound.
You want an easy commute. PDX is a quick commute for the Greater Portland region and those living in Southwest Washington. The TriMet MAX Red Line runs straight from the city center to the airport. A secure employee parking lot, complete with electric vehicle charging stations, is just a shuttle stop away. And PDX has a secure bike storage area on the lower roadway with several bike racks.
Learn more and apply today: https://jobs.pdx.com
Posted in:
Jobs
,
featured