Artist Mike Bennett To Share The Hopefuls Scavenger Hunt Around Portland this Weekend! | Follow Instagram for Clues to Find Original Prototypes & DIY Kits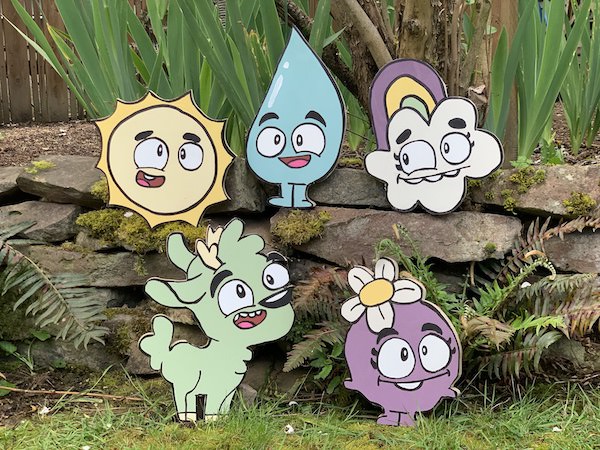 Portland artist Mike Bennett is at it again. You can literally find 5 of his beloved characters hidden around the city this weekend. Scavenger Hunt clues will be released on his Instagram stories starting July 18 at 10AM.
——————–
Related Portland Events & Info
——————–
The Hopefuls Scavenger Hunt & DIY Kits
July 18, 2020
10AM-4PM
More info: Instagram | atozoopdx.com
The local cartoonist best known for painting characters onto plywood and hiding them around the city has announced an encore for "The Hopefuls: Five Friends Made to Make Us Smile." The Hopefuls are five wooden cutout characters representative of the natural world: Flora the flower, Fawna the deer, Sol the sunshine, Bo the rainbow, and Drizzy the raindrop. Bennett created The Hopefuls this past April to bring hope and smiles to families during the quarantine.
Bennett is kicking off the return of The Hopefuls with a free citywide scavenger hunt this Saturday, July 18, from 10 a.m. to 4 p.m. or until the characters are found. He'll be hiding the original five prototypes of the characters, along with 20 Hopeful DIY kits. Bennett will drop clues on his Instagram Stories—@MikeBennettArt—with a photo and location of where each Hopeful is hidden. He's also pledged to stay with each character or kit until it's found so he can engage with his fans in person. The scavenger hunt will take place outdoors and at locations with room for social distancing.
In addition to the scavenger hunt, The Hopefuls DIY kits will go on sale on Saturday, July 18, starting at 10 a.m. at select Miller Paint locations, including Alberta, Sellwood, Vancouver-Orchards, Murray Road, Division, and Hollywood. Each kit costs $35 and contains one wooden cutout Hopeful character, recycled paint from MetroPaint, stickers for the character's face, and a foam brush. Curbside contactless pickup is available as well as home delivery on orders over $50. While shopping in stores, Miller Paint asks that customers wear a mask and practice social distancing of at least six feet.
MetroPaint, one of Miller Paints' partners, has made this second round of 1,000 The Hopefuls kits, including hand-pouring 3,400 jars of MetroPaint for the project. A service of Metro, MetroPaint collects unwanted latex paint and recycles it into a quality interior/exterior product; since 1992 it has saved nearly 4 million gallons of paint from Oregon's landfills.
"I've seen so many Hopeful characters on my evening neighborhood walks," said Bennett. "It's doing for me what we initially hoped: when I see one, I smile! I get so many people sharing videos and photos of kids and full grown adults putting these kits together. I love that art is bringing us all together."
Bennett, who recently created the drive by A to Zoo and a herd of dinosaurs roaming NE Alberta Street for AlbertasaurusPDX, said this is the last time this version of The Hopefuls will be available, so interested parties are highly encouraged to grab a kit while they can. Bennett has pledged to donate a portion of the proceeds to the Black Resilience Fund, an emergency fund dedicated to healing and resilience by providing immediate resources to Black Portlanders.
Follow Bennett on social media at @MikeBennettArt.
About Miller Paint
Manufactured in Portland, Ore. since 1890, Miller Paint is celebrating its 130th year in business in 2020. Miller Paint is an employee-owned company with 56 stores throughout Oregon, Washington and Idaho. Miller Paint products are specifically formulated for the Northwest climate and are known for outstanding quality and durability. The company has adapted to the COVID-19 pandemic to offer virtual color consultations, curbside pickup, and home delivery. Learn more at MillerPaint.com and @MillerPaint.
About MetroPaint
MetroPaint is previously unwanted paint remade new. It is screened for quality and re-blended into desirable colors, using a strict color-matching process to ensure the colors are consistent from one gallon to the next. MetroPaint is perfect for both indoor and outdoor use, includes mold and fungus inhibitors and has a 20-year limited warranty. Choosing MetroPaint supports an effort that has remade millions of gallons of latex paint, keeping these reusable resources out of landfills. Learn more at OregonMetro.gov/MetroPaint.