Pix-O-Matic PopUp Presents Meals 4 Heels in SE Portland | 2 Tasty and Healthy Dishes
From our sponsors: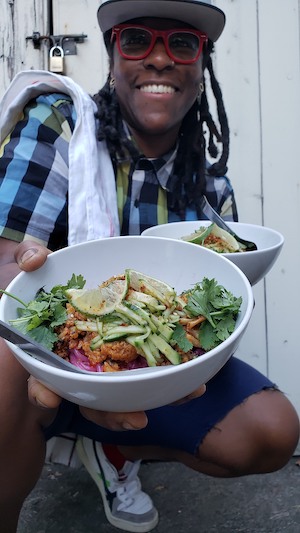 Pix-O-Matic PopUp Presents Meals for Heels
July 16-18, 2020
More info: Facebook
Pix Pâtisserie
2225 E Burnside St Portland, Oregon 97214
GTP (GETTIN' THAT PAPER) – Tom kha roasted cauliflower, sweet potato noodles, pickled cucumbers, truffled tomatoes, mint, Thai basil, cilantro, honey saambal sauce, toasted coconut & veggie furikake. $15
Freegan Vegan – Oven roasted yams, plantains sweet potatoes & apples, sautéed mushrooms, "green" brown rice, topped w/salsa lizano (no heat, hella savory) crispy quinoa, & sweet-n-salty spiced almonds & walnuts. $15
Meals for Heels is a late-night meal delivery service catering to Portland's sex worker community. With strip clubs closed due to Covid, owner Nikeisah C. Newton, who's black and lesbian, has been using her time to feed the frontline workers and protestors, and to raise funds for black, LGBTQ and woman owned businesses. She is offering up two tasty and healthy dishes in the Pix-O-Matic.
The Pix-O-Matic
Introducing Pix-O-Matic, the 24 hour contactless vending machine of Pix desserts, macarons, conservas from Bar Vivant and other random stuff to make you smile (because who couldn't use a smile these days?)
Now, you can get your Pix fix anytime craving strikes. Just visit the new refrigerated vending machine outside the Pix front door. The Pix-O-Matic will be thoroughly cleaned and restocked each day at 10AM with your favorite tasty treats. Make your selection and pay with the contactless credit card reader. Need a last minute birthday treat? The Pix-O-Matic has got your back. There's even sparklers in the rotating selection.
The Pix-O-Matic is located in front of the restaurant door at 2225 East Burnside Street in Portland Oregon. Please respect social distancing while using.