Alchemy Code Lab Presents Free Software Development Training Program Preview | Online, Gear Stories from Graduates, Learn More About Careers in Tech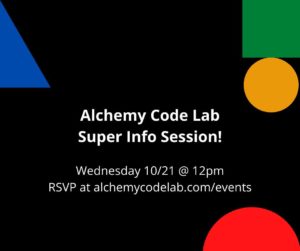 Alchemy Code Lab Software Development Training Program Preview
October 21, 2020
Noon | Free | All Ages
More info: zoom.us | alchemycodelab.com
Join the Alchemy Code Lab team for a free virtual preview of our software development training program, plus get information on how to determine the right education investment for your career goals.
Meet our team and learn more about:
Being a Software Developer including starting salaries
Who hires newly trained software developers in Portland
How COVID is impacting the tech industry, including the remote work trend
Alchemy grad stories and experience joining a team
Alchemy's training program is different from typical bootcamps
Additionally, find out about our free Developer 101 course starting November 30th.
Don't miss this behind the scenes look at tech training at Alchemy Code Lab!
---
PDX Pipeline Free Community Promotions
This is a FREE local listing provided by PDX Pipeline. Do you have a local business and want a free promotion? Fill out our form here: pdxpipeline.com/local
Posted in:
All Ages
,
events
,
Free
,
Jobs
,
Alchemy Code Lab
,
featured