Virtual OMSI Science Pub: Adapting to a Changing World | Free, Learn About Resilience to Environmental and Climate Variability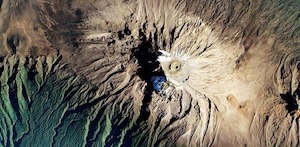 Virtual OMSI Science Pub: Adapting to a Changing World
May 7, 2020
5:30-7:30PM | $5 suggested donation
More info: Facebook
Adapting to a Changing World: NASA + Mercy Corps with Eliot Levine, Director, Environment, Energy and Climate at Mercy Corps and Shanna McClaine, PhD, Program Lead for DRR & Resilience at NASA
Please note: this event is on Thursday, instead of our regular Tuesday and starts at 5:30PM.
The increased frequency and intensity of extreme weather events like hurricanes, wildfires and droughts threaten the world's food supply, drive people from their homes, separate families and jeopardize livelihoods. All of which increase the risk of conflict, hunger and poverty.
Mercy Corps works to increase resilience to environmental and climate variability by considering the challenges each community is facing, and developing localized solutions that have the biggest impact.
NASA uses its innovations in science and technology and networks of Earth observations to monitor and understand complex human and environmental systems at different temporal and spatial scales that enable science-informed decisions on building resilient communities.
Around the world, in places as diverse as the Sahel, Mongolia, India, and Indonesia, Mercy Corps and NASA are helping people become more resilient in the face of environmental variability and a changing climate. In order to create real and lasting change, the social, economic and political realities underpinning shocks and stresses to communities must be addressed.