The Virtual Vanport Mosaic Festival 2020 | Live Streaming Art Performances, Conversations, Oral History Screenings & More!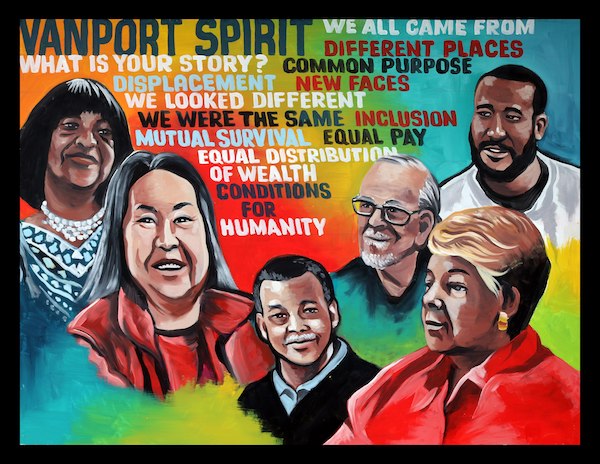 Join Vanport Mosaic for two weeks of memory activism opportunities, to explore and confront our local past and recent history of "othering" and its tragic consequences. This year's festival will feature live streaming art performances, conversations, screenings & more!
————–
Related Portland Events & Info
————–
The Virtual Vanport Mosaic Festival 2020
May 8 – 30, 2020
More info: Facebook | vanportmosaic.org
A memory activism online series curated by Story Midwife Laura Lo Forti
The 2020 program will be announced soon here and at www.vanportmosaic.org.
For questions, ideas and to offer help of any type, please email [email protected]
In these times of collective amnesia, remembering is an act of resistance. For the FIFTH YEAR Vanport Mosaic invites you to explore the many silenced histories that surround us, in order to better understand our present, and write a new chapter where we all belong.
Join us for a series of live streaming art performances, conversations, oral history screenings, presentations to celebrate the lessons of resilience and resistance as defined and told by historically oppressed communities.
This multi-disciplinary event was awarded the Oregon Heritage Excellence Award 2017, the Spirit of Portland Award by City Commissioner Nick Fish, and the Columbia Slough Watershed Council's Achievement Award.
Made possible by : Regional Arts & Culture Council, Oregon Cultural Trust, MCDD, City of Portland Office of Community & Civic Life; And the invaluable partnership of Cerimon House and Open Signal: Portland Community Media Center Artwork by Alex Chiu /created as part of Stories in Movement – a Vanport Mosaic program funded by the Office of Community and Civic Life/ Constructing Civic Dialogue Initiative
Schedule:
Friday May 8th, 6pm PST Vanport Mosaic Festival: Standing Together Seeing and Being Seen
Tuesday May 12th, 6pm PST Vanport Mosaic Festival: Love is what lightens by Aaron Spriggs
Saturday May 16th, 6pm PST Vanport Mosaic Festival: See Her Strength, by Samson Syharath
Saturday May 23rd, 6pm PST Vanport Mosaic Festival: Harvest, by Dmae Roberts/MediaRites
Saturday May 30th, day long Vanport Day of Remembrance (documentary screenings, presentations, and artistic tributes)
Other confirmed events:
Confuence Story Gathering
The Secret Asian Man, by Samson Syharath
More DeVotedly: Michelle Fuji talks with Douglas Detrick about her "Otherness: Togetherness" taiko project
How long does it take to be an American? – a conversation between Sankar Raman/The Immigrant Story and Ramiza Koya, the author of The Royal Abduls
Poetry: Lakayana Drury and Ken Yoshikawa
Drumming and Singing: John Edmo
Storytelling: Ed Edmo
Conversations with Henk Pander, Alex Chiu
Screening/Conversation on past and present NW hip hop history, how artists were capturing their realities at the time and how their commentaries plays into today. Hosted by Donovan Smith/Gentrification is Weird and Bruce Poinsette