St. Helens 2022 Sand Island Sand Castle Competition and Pirate Encampment | Featuring Award Winning Carvers, Canon Firing, Live Music, Treasure Hunting & More!
From our sponsors: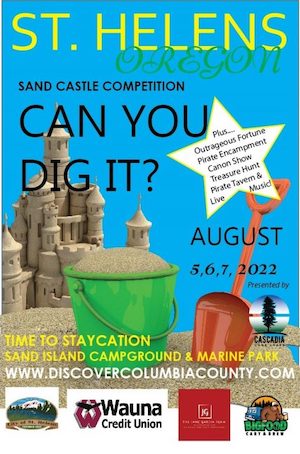 St. Helens Sand Island Sand Castle Competition and Pirate Encampment
August 5-7, 2022
More info: discovercolumbiacounty.com
Parking: The End of South 1st Street in St. Helens, OR
Sand Castle Competition and Pirate Encampment! Just 30 minutes North of Portland. Staycation summer celebration!
First we'll have more than 25 incredible sandcastle competitors from across the country heading to the island to compete for top honors. These award winning competitors are truly the best of the best. Watch as they carve up truly spectacular and amazing sand designs all on Sand Island Campground and Marine Park in St. Helens, OR.
Your day will start with a ride aboard our new water taxi to the island. Once there enjoy the day and take free sand building classes, join in the scavenger hunt and participate in sand bucket fun. Take lessons at the Sand Carvers Training Center. We'll also be hosting a whole pirate encampment with the crew from Outrageous Fortune and other pirate groups. These pirates are organizing all kinds of fun for guests too. Canon firing, live music, treasure hunting, a pirate tavern and a variety of pirate-oriented fun will have you saying AARRRGGHHH. Live Music Saturday from 4 – 9pm in our Pirate Tavern and Sunday 11 – 3pm. 2 Great Events in one extraordinary place. It's the weekend adventure you won't want to miss. It's super affordable and that makes it even more fun! Come one, come all. Bring your sand gear and we'll have you loving the island life – now just a short car ride away. Free parking on the riverfront too. It doesn't get any better. Can you dig it? We knew you could. See you soon.