St. Helens 2023 Sand Island Sand Castle Competition | Featuring Award Winning Carvers, OPB Film Segment, Beach Fun & More!
From our sponsors: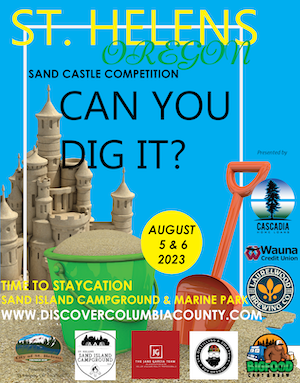 St. Helens Sand Island Sand Castle Competition
August 5-6, 2023
More info: discovercolumbiacounty.com
Parking: The End of South 1st Street in St. Helens, OR
OPB Film Segment Location! Be a part of television history!
We'll have incredible sandcastle competitors from across the country. Watch them as they carve up amazing sand designs. It's sand bucket fun.
Saturday & Sunday 10 – 6pm You can take our water shuttle anytime both days with your pass. You pass also includes choice of T-Shirts, Caps, Shot Glasses or Mug while supplies last. Choice of 1 item per person. Under 2 FREE.
Guests should wear beach gear, sunscreen, bring water to drink. Bring a towel, sand things, a lawn chair. Like going to the beach!
Weekend Pass: Your boat ride to Sand Island begins directly in front of City Hall on the boat dock below the gazebo. Overnight Camping Information Right Here – at http://www.discovercolumbiacounty.com