St. Helens 2021 Sand Island Sandcastle Competition | Featuring Award Winning Carvers, Scavenger Hunt, Lessons, Food & More!
From our sponsors: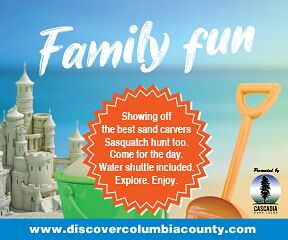 St. Helens Sand Island Sandcastle Competition
August 13-15, 2021
10AM-8PM
Stars at $7
More info: discovercolumbiacounty.com
Come witness the best of the best at the Sand Island Marina and Campground Sandcastle Competition!
What to expect: The most fun on an island ever!!! We have award winning carvers who will be showcasing their creations. On Friday the carving will be completed and you can watch the progress as they create the sand art pieces. On Saturday and Sunday all carvings will be available for your viewing delight. You can participate in finding highlights and hidden things within the carvings.
Want to learn more about sand carving? Free classes are available for wannabe better sand carvers, too.
We've also created some really fun island scavenger hunting for those who like a little squatch in their experience. You'll be able to brag about seeing the hidden bigfoot between the trees and pathways.
Instruction is available from 1 – 2 pm on Saturday with periodic instruction following. There will be a quick carve competition amongst our competition team Saturday at 2 pm you won't want to miss.
Vote for your favorite: Each person will receive a ticket to vote for their favorite creation. Voting takes place at the end of the weekend by count and will be announced online.