Oregon Symphony Presents 2022 FREE Labor Day Weekend Waterfront Concert and Festival | Movie Favorites, Opera, Cannon Fire & More!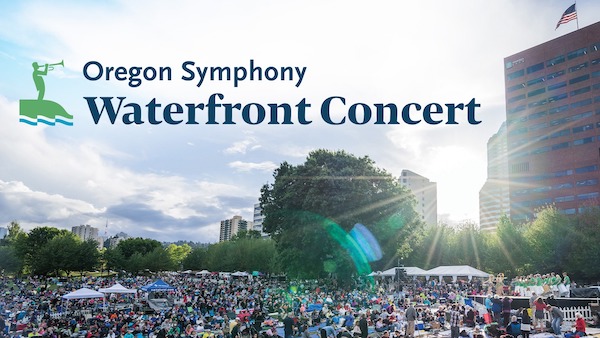 Oregon Symphony's Waterfront Concert and Festival, the free, family-friendly event, returns on Saturday, September 3 at Tom McCall Waterfront Park for an all-day celebration full of music!
—————-
Related Portland Events & Info
—————-
From press release:
Waterfront Concert and Festival
September 3, 2022
1-9:30PM
More info: orsymphony.org
Tom McCall Waterfront Park
98 SW Naito Pkwy, Portland, OR 97204
Oregon Symphony is thrilled to bring back Portland's favorite end of summer celebration and one of the most anticipated free community events, the Waterfront Concert and Festival.
The concert features a variety of music from outstanding local artists and a robust musical program performed by the Oregon Symphony.
The evening's concert includes a variety of music, from pieces featured in popular films (John Williams' "Flying Theme" from E.T. the Extra-Terrestrial, and the main theme from the epic film The Mission) to masterworks from iconic composers (Mozart, Brahms, and Tchaikovsky) and pieces that provide a window to other cultures (Ginastera's "Four Dances" from Estancia and Sibelius's Finlandia). It will also include a performance of "O Soave fanciulla" from Puccini's La Bohème featuring Portland Opera vocalists: Soprano Vanessa Isiguen and Tenor Tony Kalil. The concert culminates with the Oregon Symphony performing Tchaikovsky's 1812 Overture, complete with cannon fire from the Oregon Army National Guard.
The free festival begins at 1 p.m. Saturday, Sept. 3 at Tom McCall Waterfront Park in downtown Portland with performances from local artists and community partners such as Portland Taiko, MYSfits, vocalist Alonzo Chadwick and Zoulful, blues and gospel vocalist LaRhonda Steele, Jan Michael Looking Wolf with Indigenous flutists and Orquestra Pacifico Tropical, who will perform the music of Central and South America. The Oregon Symphony concert follows starting at 7pm.
Program
Mozart: Overture to The Abduction from the Seraglio

Sibelius: Finlandia
Barber: Adagio for Strings
Puccini: "O Soave fanciulla" from La Bohème
Ginastera: Four Dances from Estancia
Hailstork: Celebration
Morricone/Mancini: The Mission:  Gabriel's Oboe
Williams: Flying Theme from E.T. [40th Anniversary]
Brahms: Hungarian Dance No. 1, G minor
Tchaikovsky: Overture 1812
Artists
Oregon Symphony

LaRhonda Steele
Joe Powers & Courtney Von Drehle
This year's concert and festival will again feature jumbotron screens to enhance the concert-viewing experience. Concertgoers are asked to bring only low-profile chairs or blankets for seating to preserve sight lines for those behind them. Alcoholic beverages are not allowed in Tom McCall Waterfront Park pursuant to the Oregon Symphony's permit with the City of Portland. There are no current state or local COVID-19 regulations regarding entry to this outdoor event, therefore proof of full vaccination or negative COVID test or wearing a mask are not required. We ask that everyone be respectful of and considerate to all event goers.