Of the Night Offering Thematic Party & Vacation Packages | Decorations, Drinks & Snacks, Activities, Costumes & More!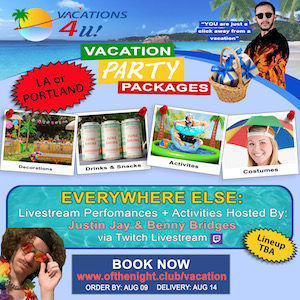 Of the Night Thematic Party Packages
More info: ofthenight.club
Created by Blakeshine (Creative Producer of Dirtybird) and Courtney Nichols (Founder of Disco Dining Club), Of the Night thematic party packages are designed to eradicate your boredom.
Hand-delivered to doorsteps in Los Angeles & Portland, each Of the Night package has the makings of a perfect night out, translated into a perfect night in. Each Of the Night package is designed for a party of 2, each with their own unique, theatrical narrative. Each package includes tasty snacks, delightful beverages, eclectic decor, playful accessories, campy activities, a curated playlist, and whimsical surprises.
Vacation Party Package: We are currently collaborating with musical DJ Justin Jay and comedian Blake Webber and just launched Vacation Of the Night party package to be to celebrate Benny Bridges new single release, Vacation. Delivered to LA and PDX only!
10% of proceeds benefit Meals on Wheels America.
Each package comes with tropical essentials like Drake's Organic alcoholic otter pops, Kinetic Sand, JuneShine hard kombucha, hawainn snacks, costumes and a friggin inflatable pool.
Orders are available now and end August 9th! On August 14th, after our Vacation of the Night packages are delivered to people's doorsteps, Justin and Benny (with surprise guests) are going to host a private livestream with interactive games mixed into the lineup.
About Of the Night 
Of the Night is for the weekend warriors yearning for the dance floor, for the social bumblebees with their glass raised high at last call, for the wanderer, the misfit, the maven, the freak. For YOU – our community, our friends, who miss howling at the moon.
Our debut package offerings launched to the public include Slumber Party Of The Night (a 90's sleepover shindig), Garden Gnomes Of The Night (a garden gnome fete), and Psychedelia Of The Night (a trippy mind portal). We will be releasing a 20 count of each box each week, with the option to have your box delivered via a theatrical telegram! 10% of proceeds benefit charitable organizations: Gays & Lesbians Living In A Transgender Society, The Center For Reproductive Rights, and The Actors Fund.
It's time to shift from mourning all the things we can't do and to instead start celebrating new, innovative ways of gathering. While we need to embrace the inevitable move towards digital, Of the Night will continue to create hands-on, playful experiences for our family of sensorial junkies.
---
PDX Pipeline Free Community Promotiwons
This is a FREE local listing provided by PDX Pipeline. Do you have a local business and want a free promotion? Fill out our form here: pdxpipeline.com/local