Les Saisons NW Presents Artisan Weekly Meal Kits | Local Deliveries & Pickups Mondays & Tuesdays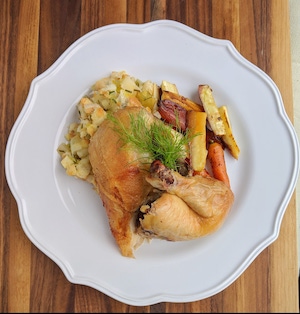 Les Saisons NW Presents Artisan Weekly Meal Kits

More info: lessaisonsnw.com
Artisan Weekly Meal Kits made from scratch with organic seasonal ingredients sourced from New Seasons, Sauvie Island and my own farm and garden.
Meals are prepped so that you spend minimal time (15 min) in the kitchen and can relax with your family for a healthy meal after a long day. Menus change weekly.
I deliver Monday and Tuesday to downtown Portland and the West Hills. I'm also able to meet you for pickups in Saint John's where I rent kitchen space or downtown Portland near PSU. Space is limited.
Packages for 2:
3 Dinners / 3 Lunches for $250
5 Entrees $250
5 Dinners / 5 Lunches $350
---
PDX Pipeline Free Community Promotions
This is a FREE local listing provided by PDX Pipeline. Do you have a local business and want a free promotion? Fill out our form here: pdxpipeline.com/local