Venezuelan Street Food Cart La Arepa Offering Pickup & Delivery | Arepas, Empanadas, Patacones & More!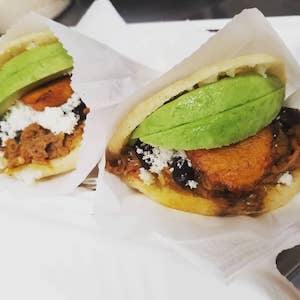 La Arepa Venezuelan food
More info: laarepapdx.com
NE Location
6035 NE Halsey St at the Barley Pod
SE Location
7238 SE Foster Rd at the Portland Mercado
La Arepa is Venezuelan food. Their menu is Gluten Free they have Arepas, empanadas, Patacones, Pabellon Criollo and more authentic venezuelan dishes.
La Arepa on 6035 NE Halsey St. is open now from Noon to 7:30 pm from Mon to Sat. They are currently taking cash and cards on site again, plus delivery and pick up through Caviar, Postmates and Doordash
La Arepa on 7238 SE Foster Rd is taking cash and card payments on site as well as pick up and delivery orders through Caviar, Postmates and Doordash, Schedule from Mon to Sat from 12 pm to 7:30 pm