Oomph Cooking Blends Make Cooking Easy, Tasty and Healthy | 25% Off All Orders Right Now, Toss in Pasta, Potatoes & More!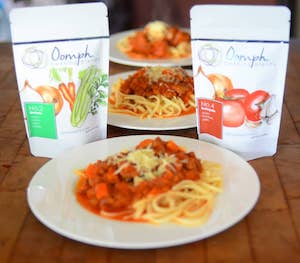 Oomph Cooking Blends
More info: oomphcooking.com
Oomph Cooking Blends are dehydrated and milled vegetables and herbs combined into scrumptious flavor profiles for cooking. Our 8 blends are Big Flavor and Nutrition in a Pinch!
Add a scoop or two to anything you are cooking, as you cook or create an incredible spread for avocado toast or toss some pasta or add to mashed potatoes. Recipes on our website and IG account.
Oomph Cooking Blends are an innovative, healthy shortcut to "YUM!". Our blends are plant-based solution that makes getting a meal on the table fast, tasty and nutritious. Oomph has delicious 8 blends with no additives; No: Salt, Preservatives, Chemicals, Pesticides & Non-GMO.
Oomph is an incredible way to expand your pantry or vegetable drawer! Oomph everything from eggs to soups to meatballs. We are delivering to local drive-through farm markets or shipping via our website.
We are offering 25% OFF all orders through the pandemic. Use code HEALTHY2020.