Free Geek Seeks Equipment Donations | Save Lives By Helping Others Stay Home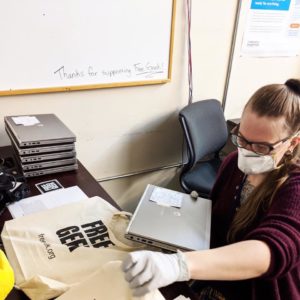 Free Geek Seeks Equipment Donations
More info: freegeek.org
Free Geek is seeing an unprecedented need for digital access and low cost laptops from low income families, people forced to telecommute and college students now learning online. As Portlanders and Oregonians are being ordered to 'stay home, save lives', many families lack basic access to a computer that would make working from home, continuing studies or getting vital health information possible. In the past week more than 1,800 people have requested a computer from Free Geek and we've been able to get 600 computers out to those in need.
Free Geek is calling on Corporations to donate technology so that folks can stay in place and keep their communities healthy. Individuals can continue to support the work of Free Geek by mailing in technology donations and monetary contributions to support the organization's work.
Although Free Geek is currently closed to the public, a dedicated skeleton crew is working hard to make sure each request gets the technology they need to stay connected during this shift toward at-home virtual communication. Without these technological devices, the divide between those who have computers and those who do not will make this crisis much worse.
To summarize, Free Geek hopes that you will consider:
Mail in technology to 1131 SE 10th Ave. Portland, OR 97214. In order to protect our employees, please do not drop it off in person.
Setting up a pickup time for large quantity technology donations (Included: companies, organizations, etc.)
Donate monetarily.
Free Geek has been serving the community for twenty years. The organization has become a key enabler for people to be able to receive computers, technological literacy, and so many other invaluable skills. The organization asks for the Portland community to help make sure those services can continue to be delivered to those in need.
About Free Geek: Free Geek is an organization founded on a unique circular model which points two existing societal problems — excess electronic waste in need of sustainable reuse and recycling, and lack of basic digital access among vulnerable populations — Free Geek points these issues back at each other to create an innovative solution.