Elephants Delicatessen Portland Mother's Day Menu | Brunch, Dinner, Treats, Flowers, Wine, Free Delivery w/ Order Over $50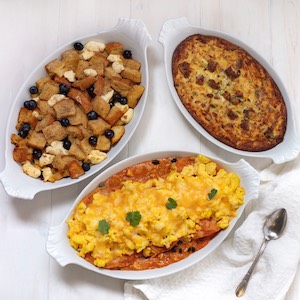 Mother's Day Menu
More info: elephantsdeli.com
Elephants Delicatessen is offering a delicious menu for Mother's Day this year. Not just brunch options, dinner packages, and other delicious treats (strawberry-rhubarb pie!) but potted flowers and wine, too. All delivered to your doorstep (or mom's).
Show appreciation for the mothers in your life with a delicious Mother's Day feast from Elephants
Delicatessen. Enjoy brunch classics like French Toast Casserole and Quiche Lorraine. Or sit down to our Applewood-Smoked ham dinner for six. Round out your meal with appetizers, sides, and homemade breads and desserts from our bakery.
We even have potted flowers and wine (including bubbly) available for delivery!
Can't be with mom this holiday? We offer free Portland-metro delivery for orders over $50.
Orders for Sat. 5/9 must be completed by 2pm, Fri. 5/8.
Orders for Sun. 5/10 must be completed by 12pm, Sat. 5/9.
About Elephants Delicatessen
A locally-owned company since 1979, Elephants Delicatessen pioneered the gourmet food industry in the Pacific Northwest and now has seven Portland-metro area retail locations and a busy catering and events company, all serving great local foods prepared from scratch. A certified B Corporation, Elephants Delicatessen prides itself on sustainable practices and voluntarily meets a higher standard of transparency and accountability, using the power of business as a force for good. They are opening their eighth location in 2020 (fingers crossed for summer).