Converge 45 Contemporary Arts Biennial – Opening Weekend | City-wide Celebration Featuring 50+ Local Artists at 15+ Venues
Social Forms: Art as Global Citizenship is an exhibition designed to promote increased citizenship, a term used not to denote privileged political status but to propose a more inclusive category of belonging in the world. Opening in venues across the Portland metro area on August 24, 2023, Social Forms will feature 50+ artists across 15+ local venues.
—————————-
Related Portland Events & Giveaways
—————————-
From press release: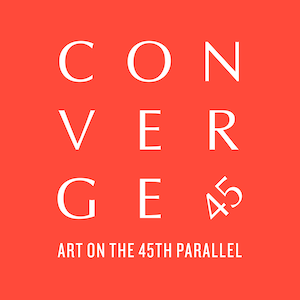 Converge 45 Contemporary Arts Biennial – Opening Weekend
August 24-27, 2023
More info: converge45.org
This free, citywide art exhibition features 50+ local and global artists at 15+ venues across Portland and promises an exciting opening weekend. Through the theme of Social Forms: Art as Global Citizenship, this year's biennial is a curated showing of the world's leading contemporary artworks – some of which will debut for the first time ever here in Portland. Experience the way the arts can uniquely help revitalize our city, connect us as a community and drive meaningful dialogue about some of the most pressing topics of our time, from deforestation of the Amazon to monuments to Indigenous people, exploring the concept of citizenship and immigration, to lifting up the voices and experiences of Black bodies and women of color and more.
Highlights: Among the show's artworks is:
Broken Spectre, an immersive film by Richard Moss, arguably the most powerful artistic response to date to the devastating and ongoing impact of deforestation in the Amazon
A major new artwork for the city of Portland, Turtle Island, And… by Marie Watt, a key Pacific Northwest artist who is a member of the Seneca Nation.
A profoundly affecting sculptural installation by Malcolm Peacock that explores themes of safety for Black individuals, especially as these relate to the history of Portland.
Groundbreaking artworks from Frieze's Impact Prize winner, Narsiso Martinez, that spotlight the precarious experiences of marginalized and misrepresented immigrant communities in the U.S and abroad.
An important historical exhibition drawn entirely from the collection of Jordan D. Schnitzer and his Family Foundation, including works by Andy Warhol, Roy Lichtenstein, Kara Walker, Robert Rauschenberg and many more.
Key public events include:
Thursday, August 24:
1:30PM: Converge 45 2023 Biennial Kickoff event opening remarks with Converge 45 leaders, Mayor Wheeler and Jordan Schnitzer at Jordan Schnitzer Museum of Art, Portland State University (1855 SW Broadway), with an exhibition viewing of Hung Liu: A Question of Hu.
4:30PM: Screening of Richard Mosse: Broken Spectre (as profiled recently in the New York Times, including a mention of Converge 45), with remarks by Christian Viveros-Fauné and artist Richard Mosse. (Hoffman Gallery at Lewis and Clark College, 615 S Palatine Hill Rd)
Friday, August 25:
8PM: Marie Watt Reception at Native Arts and Cultures Foundation (Center for Native Arts and Cultures NACF;800 SE 10th Ave.)
Sat, August 26:
5PM: Oregon Contemporary Reception and Party, with exhibition viewings for Sam Hamilton: Te Moana Meridian and Tavares Strachan: One Hundred More Fires (8371 N Interstate Ave, Portland, OR 97217)