Nordic Northwest Presents 2023 Viking Beer Fest | Combat, Music, Axe Throwing, Merchants, Nordic Cuisine & More!
From our sponsors: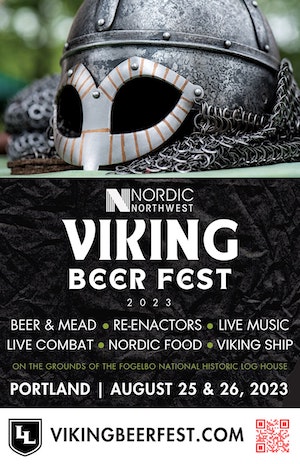 Viking Beer Fest
August 25-26, 2023
3-10PM | Starts at $39 | 21+
More info: eventbrite.com
Nordic Northwest Campus
8800 SW Oleson Road Portland, OR 97223
Embark on a mesmerizing journey to the heart of Viking heritage at the 2023 Viking Beer Fest, where frothy brews and Nordic traditions meld into a singular, unforgettable experience! Revel in the exhilaration of last year's sold-out festival, now amplified with even more enthralling features:
⚔️ Extended Celebrations: A 2-day extravaganza to cater to soaring demand. Claim your tickets before they vanish!
🛡️ Enriched Viking Experience: Double the re-enactors and merchants each day, immersing you in ancient Nordic customs
🪓 Thrilling Combat: Witness live, heart-pounding combat demonstrations throughout the festival
🥗 Scrumptious Nordic Cuisine: Feast on exquisite Scandinavian food carts and the acclaimed Broder Söder
🍻 Exclusive Brews: Indulge in custom ales concocted solely for the festival
🎵 Engaging Music and Activities: Dance, play, and rejoice like a true Viking
🏹 Amazing Art Reveal: Be among the first to behold a colossal recycled art Troll sculpture, masterfully crafted by renowned Danish artist Thomas Dambo!