Win Gift Certificate ($50): Central Kitchen Features 6 Restaurants in One Location in SE Portland | Now Open For Dine-In & Takeout, Save 25% on Dine-In
We are giving away a $50 gift certificate for dine-in at Central Kitchen. To win, comment on this post why you'd like to attend. Winner will be drawn and emailed November 2.
———————————————
From our sponsors: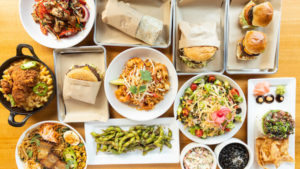 Central Kitchen Online Food Hall
Open Daily 4-9PM
More info: centralkitchenpdx.com
Reservations: opentable.com
Mention pdxpipeline to receive 25% Off Dine-In
Central Bowl, Arcade & Food Hall
808 SE Morrison St, Portland, OR 97214
Two longtime Portland food restaurateurs, John Plew and Keith Castro, have announced the launch of Central Kitchen, an online food hall with six virtual restaurants and one shared kitchen. Central Kitchen will focus on take out and delivery from its location inside the newly branded Central Bowl, Arcade & Food Hall (formerly Grand Central Restaurant & Bowling Lounge) at 808 SE Morrison St.
Six diverse restaurants have been developed for Central Kitchen, each featuring scratch-made food that's cravable with big flavors. Soy Joy Kitchen specializes in rice bowls, sushi, ramen, and other Asian favorites. BYOBurger offers customizable burgers, fresh blended milkshakes, three kinds of French fries, plus crispy tots and onion rings. Tortilla Sunrise serves street tacos, burritos, nachos, and bowls. Southern Jewel offers Southern fried chicken, Nashville hot chicken, sliders and Southern specialties. Killer Wings serves boneless and traditional wings with a variety of sauces. These five restaurants will be anchored by a sixth, Thirsty Lion Gastropub, which features starters, burgers, sandwiches, salads, and specialties. Nearly every restaurant offers vegetarian options. Each restaurant has its own menu, logo, and packaging, yet all menu items will be ordered from one central website at CentralKitchenPDX.com.
"We've been incubating this idea of a kitchen with no dining room, focusing on take out and delivery, for the last year," explained Plew, President and CEO of Concept Entertainment (CEG), which owns the Grand Central building in the heart of Southeast Portland. "The pandemic really put the process into hyperspeed. The mandated shutdown caused us to reassess the Grand Central Restaurant & Bowling Lounge: we had a kitchen, off-street parking, and a dedicated team that could make this idea a reality. We chose to rebrand as Central Bowl, Arcade & Food Hall and can't wait to share this exciting new concept with the local community!"
Customers and delivery drivers––Central Kitchen will also be available from the main food delivery services––will pick up orders from a window that is being created from a newly renovated space at 816 SE 8th Ave. A number of parking spaces will be designated for take out orders in the parking lot on the west side of the building.
Plew and Castro have worked together for a decade at CEG, a hospitality management company headquartered in Portland. Plew originally brought Castro on board as VP of Food and Beverage Executive Chef to elevate Thirsty Lion's food platform. Castro previously served as Executive Chef for Pacific Coast Restaurants, which included City Grill, Henry's Tavern, Stanfords, and Newport Bay. CEG is the outfit behind the Gypsy, The Lotus, and other Portland hot spots; it is perhaps best known for founding Thirsty Lion Gastropub and Grill and scaling the brand to expand regionally. Thirsty Lion operated in downtown Portland from 2006 to 2017 and still has Oregon locations in Tigard and Hillsboro, plus eight stores in Arizona, Colorado, and Texas. In 2018, Full Service Restaurant News (FSR) named Thirsty Lion one of 12 of the most successful emerging restaurant chains in the country.
View menus, place orders and learn more at CentralKitchenPDX.com and engage on social media @CentralKitchenPDX.