Backfence PDX: Roulette Storytelling @ Alberta House | Featuring Seasoned Winners & a New Challenger
From our sponsors: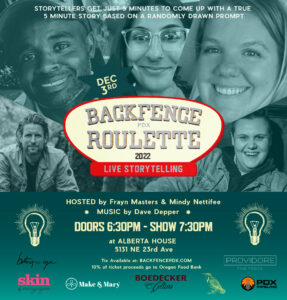 Backfence PDX: Roulette
December 3, 2022
6:30PM Doors | 7:30PM Show
GA $17 ADV, $20 Doors
VIP $30 ADV, $35 Doors
More info: merctickets.com
Alberta House
5131 NE 23rd Ave., Portland OR
How does BACKFENCE PDX: ROULETTE work? Each show begins with a giant game show size wheel packed with juicy story prompts. One of our five seasoned storytellers is randomly drawn. To determine the random prompt for their story, they spin that giant wheel! They can play or pass their prompt (once). If they pass, another teller can steal their prompt. Then the risky part… each storyteller has only 5 minutes to come up with a true 5-minute story based on their prompt! It's like we invented a new game called truth AND dare. The audience votes on a winner at the end of the night – both the storyteller winner and one lucky audience member win a veritable bevy of prizes!
Hosted by: Frayn Masters & Mindy Nettiffee
Music by: Dave Depper

STORYTELLERS:
Arlo Weierhauser: Arlo is a comedian and was voted Portland's Funniest Person 2017, and recently appeared The Late Show with Stephen Colbert. Actor known for Timmy Failure: Mistakes Were Made. Formerly fired from: Subway, Zoomcare, Nevada title loans, 4 software companies, berry picking, and an escape room company. Has been asked to quit acting lessons, voice lessons, a team-building workshop, and 2 dance classes. Banned from one US Bank, and one Albertsons. They are a 4-time ROULETTE winner.
Chris Williams: Chris has worked for the Portland Public Schools for the past eleven years. He produces a storytelling/community building event, Front Porch Sessions. He is 1/3 of the international, award winning improv group Broke Gravy that performed at this year's Portland TEDx in May. Chris believes in community engagement, self-reflection, transparency, laughing whenever possible and the power of telling and listening to stories. He is a 5-time ROULETTE winner.
Darshanpeet Gill: Darshanpreet is a high school science teacher who loves to be left alone. She is a phenomenal baker and avid reader. She is a ROULETTE winner.
Shannon Balcom-Graves: Shannon is a "cool" mom, Tik-Tok watcher,  and has a big girl job. She is a 5-time ROULETTE winner.
Grant Gosch: Grant has written and directed content for Nike, Intel, and other global brands. While working for large brands, his passion for storytelling translated to a weekly live storytelling performance called Live from Ocean Creek. Grant's latest novel Kingfisher Lane can be found on Amazon. This is Grant's first time performing on ROULETTE.
*10% of ticket proceeds go to Oregon Food Bank. 'Oregon Food Bank collects food from farmers, manufacturers, wholesalers, retailers, individuals and government sources. We distribute that food through a Statewide Network of 21 Regional Food Banks and approximately 1,200 food assistance sites in Oregon and Clark County, WA.'
Note: we changed the name from BACKFENCE PDX: RUSSIAN ROULETTE to BACKFENCE PDX: ROULETTE. After thinking about it over the years, we just felt the time had come to make this change.