2022 Fungi Film Festival @ Cinema 21 | 16 Films From 10 Countries, Filmmaker Q&A
From our sponsors: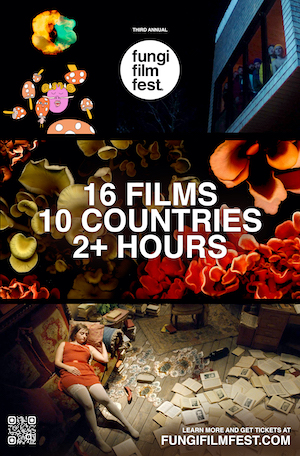 Fungi Film Festival
December 8 & 11, 2022
Thursday 7PM | Sunday 4PM
$13 | All Ages
More info: fungifilmfest.com
Cinema 21
616 NW 21st Ave, Portland, Oregon 97209
The world's only film festival dedicated to fungi – The Fungi Film Fest (FFF) – has announced the lineup for its 2022 program. This year the Fest will feature 16 films from 10 countries, including Poland, Argentina, Czech Republic, United Kingdom, and Canada. With a total run time of over two hours, this niche festival's third year offers another rich visually stunning example of why mycology (the science of mushrooms, molds, yeast, and lichens) has rapidly increased its popularity around the world in recent years.
This year's lineup brings a mix of experimental, narrative, documentary, and animated films, with lengths ranging from 2 to 32 minutes. Some are moving odes to these strange organisms, as seen in the abstract visuals and poetics of Beneath by Beth Walker (U.K.) or the unsettling stop motion and narration of Mikoryzator by Maria Subczyńska (Poland). Other films explore the comedic nature of fungi, as found in the animation Shroom Mates by Rosie Windsor (U.K.) and the 14-minute narrative of Pharmakon by Jean-Martin Gagnon (Canada) and 16-minute story of Who's Who in Mycology by Marie Dvorakova (Czech Republic). The Fest's documentaries include a cultural exploration of mushroom usage in India (Mushroom: The Magical Fungi) and an examination of the most potent psychedelic mushroom in the world, which grows in a small region at the mouth of Oregon's Columbia River (Azeurescens: Through the Blue Lens).
The FFF was first envisioned by Peter McCoy, a Portland-raised mushroom farmer and mycology educator, and the author of Radical Mycology: A Treatise on Seeing and Working With Fungi (Chthaeus Press, 2016), which explores the many intersections between human cultures and fungi.
The Fest kicks off with live screenings and filmmaker Q&A sessions at the historic Cinema 21 in Portland, Oregon (616 NW 21st Ave). The premiere showing is on Thursday, December 8 at 7 pm, during which the Fest's award winners will be announced, including the Audience Choice award that attendees vote on. A second live showing will take place at Cinema 21 on Sunday, December 11 at 4 pm. Filmmaker Q&A sessions will take place after both screenings.
After the Fest's launch, the whole program will be viewable on demand via Vimeo from December 9, 2022 – January 3, 2023. The Fest's full program is now viewable.