2022 It's a Tony Starlight Christmas @ Alberta Rose Theatre in NE Portland | Featuring the All-Star Horns, Holiday Classics
From our sponsors: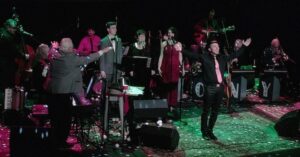 It's A Tony Starlight Christmas
December 11, 2022
2PM & 5 PM | All Ages
GA $30, Preferred Seating $45
More info: tonystarlight.com
Alberta Rose Theatre
3000 NE Alberta St, Portland, OR 97211
"It's a Tony Starlight Christmas" has been a Portland holiday tradition for the last fifteen years, and this December it is being performed exclusively on the stage of Alberta Rose Theatre. Tony's Christmas show is a throwback to the classic television variety shows when legends like Dean Martin, Bing Crosby, Gene Autry, and Frank Sinatra sang songs and spread holiday cheer far and wide. You can't help but feel the warmth and glow of the season. "It's a Tony Starlight Christmas" brings back these uplifting holiday traditions and puts a fresh, comedic spin on them.
Tony and his magnificent band also perform songs from such holiday specials as Scrooge and several tunes from the Rankin and Bass animated television specials from the sixties. No other show has such a variety of Christmas Classics! From swinging standards to comedy routines where Joe Friday arrests Frosty the Snowman; from impressions of Jimmy Durante and Neil Diamond to duets with guest vocalists Barbara Ayars and Thea Enos.
These are the only two public Christmas shows Tony and his crew are performing this year, so don't miss out!