ZARU TEA Offers Free Delivery to Portland Metro Area | A Portion of All Sales Help Fund Projects Dedicated to Saving Endangered Species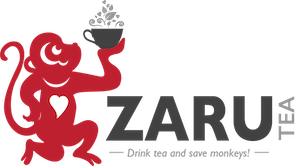 ZARU TEA – A tea company with a monkey mission!
More info: zarutea.com
ZARU TEA creates Loose leaf tea blends & tea accessories.
They are in business to save monkeys! (and of course, make delicious tea). Their goal is to use the business, their voice, and their community to bring awareness of critically endangered species and foster action to help save them.
Tea Blending Philosophy:
Each tea blend is carefully crafted to provide you with a great cup of healthy tea. They only use natural ingredients to flavor our teas, they never use extracts or artificial ingredients. As a result, the flavors and aromas are more subtle and balanced. The goal is to ensure that no one ingredient overpowers the other and to maximize the health benefits of the ingredients. They are constantly striving to create blends our customers love, and we welcome your feedback.
They ship within the US, and offer free local delivery to the Portland Metro area.
---
PDX Pipeline Free Community Promotions
This is a FREE local listing provided by PDX Pipeline. Do you have a local business and want a free promotion? Fill out our form here: pdxpipeline.com/local