Presents of Mind Gift Shop Now Open | SE Portland's Premier One Stop Gift Shop Since 1989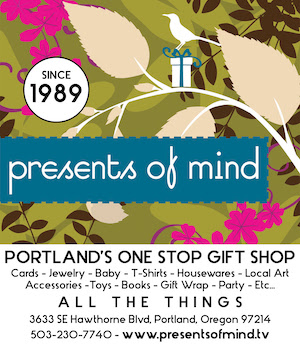 Presents of Mind
Monday – Friday 11-6
Saturday & Sunday 10-6
Curbside Pickup & Mail Order Available
More info: presentsofmind.tv
Presents of Mind
3633 SE Hawthorne BLVD, Portland, Oregon 97214
503-230-7740
Iconic Portland gift shop Presents of Mind is ready to re-open the store to the community on May 22nd! They will allow a limited number of people to shop at a time to help with social distancing.
We hope to expand on these hours very soon. Check back for updates.
All customers and employees are required to wear a mask at all times. We've made some modifications to our sales floor to help ensure 6ft of separation and incorporated sanitation procedures.
They will continue to offer curbside pick-up, and mail order for customers not wishing to shop in-store. Private shopping appointments are also available.
Many thanks to the community support during this difficult time!
---
PDX Pipeline Free Community Promotions
This is a FREE local listing provided by PDX Pipeline. Do you have a local business and want a free promotion? Fill out our form here: pdxpipeline.com/local