Win Tickets ($50): SLEEPY HALLOW – The Still Sleep Tour @ Roseland Theater | Rap, w/ Eli Fross
We are giving away a pair of tickets to SLEEPY HALLOW – The Still Sleep Tour @ Roseland Theater on November 22. To win, comment below on this post why you'd like to attend. Winner will be drawn and emailed November 15.
———————————————
From our sponsors: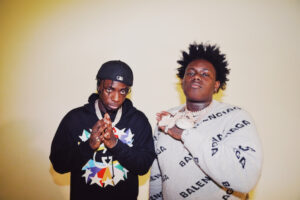 SLEEPY HALLOW – The Still Sleep Tour
November 22, 2021
8PM | $25 | All Ages
More info: event.etix.com
Roseland Theater
8 NW 6th Ave, Portland, OR 97209
An early pioneer of Brooklyn's drill scene, rapper Sleepy Hallow made his name with the iconic "Panic" set of singles, pushing the genre's sonics forward alongside close collaborator Sheff G.
Born and raised in Brooklyn, New York, rapper Sleepy Hallow kicked off his musical career with a string of singles, demonstrating his kinship with local collaborator Sheff G on early tracks like "Disrespect" (July 2017) and "Haters Hurtin" (August 2017). At the forefront of Brooklyn's emerging drill scene, the duo's early material reconfigured the British drill beats of AXL and MKthePlug within a New York context, adding local slang and alternate flows to the U.K. style. Together with DoubleG, the pair soon dropped iconic single "Panic," which would become the first of a series as the rappers continued to develop their sonics. After closing out 2017 with "Saucin" and collaboration "Glocc wit a Sticc," Sleepy joined with Sheff again in January the next year for "Attic," followed shortly by a second installment in the "Panic" series. Continuing to build his brand on bassy vocals and brutal imagery, the rapper moved through 2018 with a mix of solo and Sheff G-assisted singles, with a third installment in the "Panic" series becoming the duo's biggest hit to date.
2019 saw Sleepy work heavily on two full-length projects, and was featured seven times on Sheff's debut, The Unluccy Luccky Kid, before following with his own debut mixtape, Don't Sleep. While both tapes retained the duo's charisma and signature flows, they swerved significantly away from their drill roots, instead landing variably on the trap spectrum. While still primarily focused on trap, Sleepy's 2020 offerings were more diverse in their approach: the rapper's second tape, Sleepy for President, ranged from guitar-driven introspection to experimental drill styles. The rapper soon found his biggest hit to date with "Deep End Freestyle," a minimal track which founded international success through its use in viral video content. ~ David Crone, Rovi