Win Tickets ($50): Show Me The Body: World War Tour @ Revolution Hall | w/ Jesus Piece, Scowl & TRiPPJONES
We are giving away a pair of tickets to Show Me The Body: World War Tour @ Revolution Hall on March 9. To win, comment below on this post why you'd like to attend. Winner will be drawn and emailed March 6.
———————————————
From our sponsors: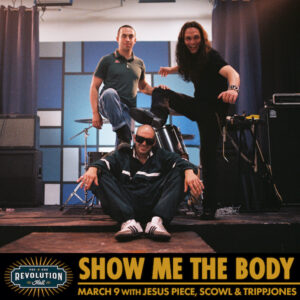 Show Me The Body: World War Tour
March 9, 2023
Doors 6:30PM, Show 7:30PM | $25 | 21+ (minors OK in balcony)
More info: etix.com
Revolution Hall
1300 SE Stark St., Portland, OR
Show Me The Body is a New York City based ecClesiastical hardcore trio consisting of Julian Cashwan Pratt (founder; banjo and vocals), Harlan Steed (founder; bass), and Jackie McDermott (current drummer). The band has organized non-traditional, intentional DIY spaces for NYC youth since 2015, and since expanded that work to a global capacity through their urgent, ceremonial live shows, subterranean punk and hip-hop mixed tours, and their CORPUS NYC platform. Trouble the Water is the culmination of nearly a decade of barrelling against New York City's structural ambivalence and indifference; an invocation to a like-minded global community to consider the alchemy of family-building, and of turning water to blood.
Trouble the Water both references and pays homage to the physical city, and the New York Sound: not one particular genre, but the people and subcultures that encapsulate its true foundation, style, and spirit; while expanding upon and reckoning with the hyperlocal territory of 2019's Dog Whistle. With Pratt's most encantatory, interrogative poetry to date, and Steed expanding the glitchy, caustic arena of his electronic experimentation, the band is feeling more like themselves than ever. The founding duo, who have worked together since 2009, used Trouble The Water to methodically inhabit one another's forms; Pratt experimented recklessly with production and synths, while Steed challenged his own focus to include melodies and riffs.
Although the title invokes the ancient alchemy Moses wielded to free and unite Israelite peoples, Trouble The Water refuses nostalgia, or mimicry. Instead, it considers the sublime power of the unifying physical practices that can be enacted daily, to invoke immeasurable spiritual and collective reactions. Buoyed by moments of stinging stillness and compulsive, almost optimistic, malfunctioning rhythms, the work is literally a conjuration to dance, and move. If we are really living through the end of the world, maybe every movement we make, no matter how slight, is actually boundless and radical. How do we find freedom through rejecting time altogether, and existing only in communion, in space, and in the constellations we form as we choose our "blood" families? Or, as Pratt demands on Demeanor, "What's better than when we come together? Fighting, dancing, fucking together." Trouble the Water is at once a homily for those left behind or displaced, and a searing investigation of what survival looks like from within the borders of an aggressively policed city and state, that postures those unignorable calls for rage and migration to a world at war.