Colin Stetson w/Justin Garrett Walter @ The Old Church Concert Hall | Horns
From our sponsors: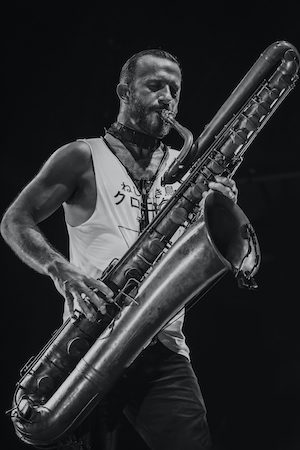 Colin Stetson w/Justin Garrett Walter
March 4, 2023
Doors 7PM, Show 8M |
More info: etix.com
The Old Church Concert Hall
1422 Southwest 11th Avenue Portland, OR
Colin Stetson was born and raised in Ann Arbor, spent a decade in San Francisco and Brooklyn honing his formidable talents as a horn player, eventually settling in Montreal in 2007. Over the years he has worked extensively, live and in studio, with a wide range of bands and musicians including Tom Waits, Arcade Fire, Bon Iver, TV On The Radio, Feist, Laurie Anderson, Lou Reed, Bill Laswell, Evan Parker, The Chemical Brothers, Animal Collective, Hamid Drake, LCD Soundsystem, The National, Angelique Kidjo, Fink, and David Gilmore. Meanwhile he has developed an utterly unique voice as a soloist, principally on saxophones and clarinets, his intense technical prowess matched by his exhilarating and emotionally gripping skills as a songwriter.
Stetson's astounding physical engagement with his instruments (chiefly bass and alto saxophones) produces emotionally rich and polyphonic compositions that transcend expectations of what solo horn playing can sound like. Stemming from that approach and aesthetic, he has been contributing regularly to the world of film, TV, and game scoring over the past decade with such titles as Hereditary (2018), The First (2018), Red Dead Redemption 2 (2018), Color Out of Space (2019), Barkskins (2020), Mayday (2021), Among The Stars (2021), Texas Chainsaw Massacre (2022), Uzumaki (2022), and The Menu (2022).