Win Tickets ($60): Red Fang, Big Business, & Tacos! @ Crystal Ballroom | Rock, Heavy Metal Punk
We are giving away a pair of tickets to Red Fang, Big Business, & Tacos! @ Crystal Ballroom on July 29. To win, comment below on this post why you'd like to attend. Winner will be drawn and emailed July 25.
———————————————
From our sponsors: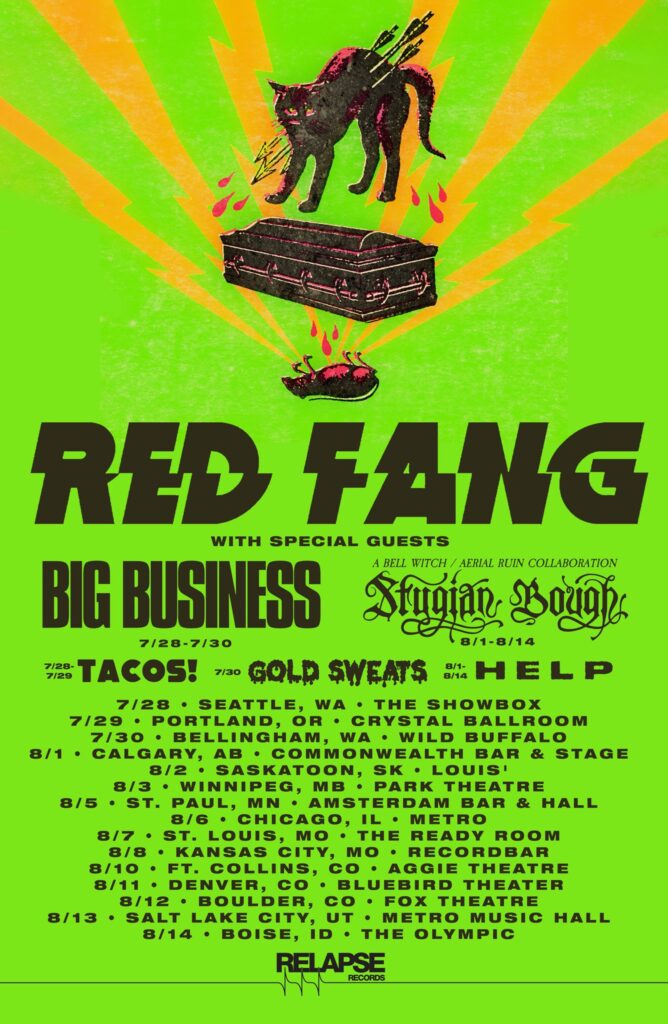 Sabertooth, Portland Mercury and XRAY.FM present
Red Fang
Big Business
Tacos!
July 29, 2022
6:30PM Doors, 8PM show | All Ages
$26 ADV, $30 Doors, $32 ADV 21+ balcony, $37 Doors 21+ balcony
More info: crystalballroompdx.com
Crystal Ballroom
1332 W Burnside St, Portland, OR 97209
Portland rockers Red Fang have announced their long-awaited North America Summer 2022 tour dates, in support of their acclaimed 2021 full-length Arrows. This latest release was produced by longtime collaborator Chris Funk and has been acclaimed as "a satisfying piece of scuzzed-out riffage" according to Stereogum and "another heaping pile of fuzzy stoner rock from one of the most reliable institutions in their genre" from Revolver.
"I like the idea of the record starting in a way that doesn't make any sense at all for a Red Fang record."
That's vocalist/bassist Aaron Beam talking about "Take It Back," the opening track-or "sintro," part song, part intro-of Red Fang's fifth album, Arrows.
"It reminds me of a time before people listened to music digitally-and they listened to full albums," drummer John Sherman adds. "There were often cool, spooky intros-like fuckin' Dio albums and shit. There are some weird sounds at the beginning to get you in the mood before it blasts off."
And blast off it does. After the woozy opening salvo of "Take It Back," Arrows launches into a super-rock trifecta of what Red Fang does best-from Melvins-esque power dirge "Unreal Estate" into the anthemic title track into up-tempo banger "My Disaster."
Yeah, it's been nearly five years since 2016's Only Ghosts, but your favorite
beer-crushing, zombie-killing, air-guitar-contest-judging metal heroes are back in action, doing what they do best-AND MORE. "This record feels more like Murder The Mountains to me than any record we've done before or since," Beam ventures. "It doesn't sound like that record, but Murder The Mountains was us doing whatever the fuck we wanted, and that's what this is, too."
"We're definitely exploring new territory," says guitarist/vocalist Bryan Giles. "And I'm very happy about that. I wouldn't wanna be in this band if we kept doing the same thing over and over again."
Arrows was recorded at Halfling Studios in the band's hometown of Portland, OR, with longtime collaborator Chris Funk, who produced Murder The Mountains and 2013's Whales and Leeches. "Chris is a major influencer as far as the weird ambient stuff in between the songs and the creepy incidental noises within the songs," Giles points out. "I think he definitely creates an added layer of atmosphere that we wouldn't have otherwise."
In an effort to compound said atmosphere, Sherman recorded some of his drum parts at the bottom of a pool. Luckily, it was empty. "It's actually a kick-ass skate pool," the drummer explains. "It was designed by Lance Mountain, if I've got my facts straight. As soon as we decided to record there, I knew I would end up in the pool at some point."
"The pool was a big part of the record," Giles confirms. "The drums sound so huge-it's crazy. But I was terrified of the pool because there was no railing. Every time I walked by, I was afraid