Win Tickets ($48): Together Pangea @ Mission Theater | Indie Rock, Garage Punk
We are giving away a pair of tickets to Together Pangea @ Mission Theater on April 30. To win, comment below on this post why you'd like to attend. Winner will be drawn and emailed April 25.
———————————————
From our sponsors: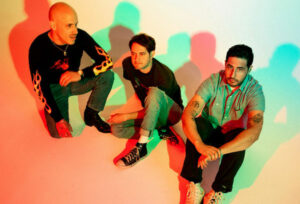 Together Pangea
April 30, 2022
Doors 7PM, Show 8PM | $20 ADV, $24 Doors | All Ages
More info: mcmenamins.com
Mission Theater
1624 NW Glisan St, Portland, OR 97209
Together Pangea
So…what in the hell just happened?
If you find yourself asking that question these days, be sure you're not alone. We just made it through the most absolute bonkers year of our lifetimes-maybe of anybody's lifetime. Pandemic and protest, impeachment and implosion, fires, failures, horrors, hornets, scandals and stormings and more storms than you could count…no one can blame you if you spent the year hunkered down or hiding. And yet, some brave souls out there in Quarantineland seized the year as an opportunity to create something from out of all that isolation-though the meanings of and behind those creations are very much still being processed.
The members of the Los Angeles indie band Together Pangea-William Keegan, Danny Bengston, and Erik Jimenez-are three such undeterred, working class valiants who made the most of the 2020 turbulence by writing and recording DYE, an upbeat, undeniable collection of hooks, anthems, and power-pop garage-rock catchiness that is unmistakably the album of their career. And while they-and we-are still processing not only what the hell happened during the past bonkers year but also just what in the hell got made in it, too, one thing is certain: when life gives you lockdowns, make some fucking lemonade.
"There's no specific thing this record is about, or that at least has revealed itself to us," Keegan says. "A year from now we'll probably be like, 'Oh, fuck, that whole record is about this and we didn't even know it.' That happens sometimes; the meaning will reveal itself in time. This has been probably the most confusing year in most people's lives, so for us to know exactly what all this shit we made is…we just don't. We're still processing it all. But every time we re-listen to it, we think it's as good as if not better than anything we've ever made."
At the very start of 2020, coming off of extensive touring behind Bulls and Roosters and their most successful year as a band to date, Together Pangea (and the rest of us) saw things come to a crashing halt. There was a month or two of the requisite uncertainty and aloneness, but then quickly they realized that not even a global pandemic could keep them from writing and recording songs. Keegan, the principle songwriter, got to work composing in his usual way with acoustic guitar and vocals before trading bigger-picture ideas with Bengston and Jimenez about how to flesh an album out from the batch of tunes they gravitated to. But where normally the band would take those songs to a studio to polish them with a producer, this time they were met with a new challenge: Upon listening to the eight demos, the band's label A&R challenged them to head back to the drawing board to return with ten completely new tracks.
"He said, 'This is fine but I think you can do better,'" Keegan recalls. "I was like, 'Oh, shit, maybe we can.' So we spent another month writing. It was a positive thing that did change how the record happened. We ended up using a lot of those songs written after the initial demos. Nobody had ever said something wasn't good enough before, to try harder and come back later. That was a cool thing, a good challenge."
COVID Policy: All attendees must either: 1) be at least two weeks past receiving full COVID vaccination and show a vaccination card along with photo ID, or 2) show proof of negative PCR COVID test within 72 hours preceding the show, along with photo ID. Test must be medically administered. At-home tests not accepted. All ticketholders must wear face masks at all times except when eating or drinking.