Win Tickets ($36): Hayley Lynn Album Release w/ Jacob Westfall & Amy Evans @ The Old Church Concert Hall | Indie Pop
We are giving away a pair of tickets to Hayley Lynn Album Release w/ Jacob Westfall & Amy Evans @ The Old Church Concert Hall on October 28. To win, comment below on this post why you'd like to attend. Winner will be drawn and emailed October 24.
———————————————
From our sponsors: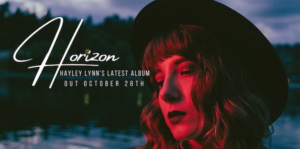 Hayley Lynn Album Release w/ Jacob Westfall & Amy Evans
October 28, 2022
Doors 6:30PM, Show 7:30PM | $15-$18 | All Ages
More info: events.humanitix.com
The Old Church Concert Hall
1422 SW 11th Ave, Portland, OR 97201
Hayley Lynn is a Portland Oregon based songwriter with influences ranging from the effortless indie pop of Lykke Li and swagger of Sharon Van Etten to the organic tones of Maggie Rogers and tenderness of Imogen Heap.
Her debut album "Bring on the Flames" was performed to several sold out shows as well as placement in the Netflix Original shows "The Pier" and "Money Heist." Since then, Lynn's music has been placed on ABC, the 700 Club, and Big Ten Network, expanding Lynn's reach to international audiences.
In addition to being a hometown favorite, Lynn is back on the road with breakthrough performances at festivals such as Northwest Folklife, Oregon Country Fair, Spreckels Temple (where greats like Janis Joplin and Jimi Hendrix once stood), Skillhouse Records, Winningstad Theater, Bloodworks Live Studio, Mississippi Studios, and a plethora of underground house shows.
With a degree in Performance from University of Victoria in British Columbia, Lynn is no stranger to the stage. In 2016, the artist decided to step away from a successful acting trajectory to focus full time on music, saying the ability to have complete control over her career was what drew her in this direction. For her (and us) it has been all the better. With three EPs, an album, and a handful of singles under her belt, Lynn's prolific creativity puts her at the top of the list of Portland songwriters to watch today.
Buzz Magazine stated "Organically gripping and raw, Hayley Lynn's sultry timbres extend through the various depths of her vocal range as she is soft-spoken but packs a punch when her lyrical motifs drop."
Daniel J Curran from Music Review commented "Hayley Lynn is a musical attention-getter. She not only knows how to get your attention; she knows how to keep it. Her songs are well written, well played, well sung. Her voice is extraordinary. Her vocal range and songwriting ability leave one excited about the infinite possibilities the future possesses."
Recently she has been steadily shaping her first full length self released LP 'Horizon'. Many of the songs came as a means to heal. The pandemic was especially hard on artists and Lynn's method of survival was to dive deep into the layers of her life, the feelings that arose and the distractions she used to cope. The result is a velvet voice wrapped in an ocean of sound that is cathartic to lose ourselves in.
Her single, "Danny DeVito," shows Lynn doing what most artists hope to achieve: take her art seriously while still bringing levity into the world. The dance-pop single is a nod to cult subcultures everywhere, yet somehow keeps one foot strictly in the mainstream.