Win Tickets ($40): David Torn + Corzi și Arcuri @ The Old Church | "Tall Tales (direct translations from the lost tongue)", Guitar, Sound Sorcerer
We are giving away a pair of tickets to David Torn + Corzi și Arcuri @ The Old Church on October 22. To win, comment below on this post why you'd like to attend. Winner will be drawn and emailed October 17.
———————————————
From our sponsors: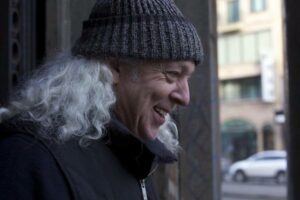 David Torn
October 22, 2022
Doors 7PM, Show 8PM | $20 | All Ages
More info: etix.com
The Old Church Concert Hall
1422 SW 11th Ave, Portland, OR 97201
"His work is very spiritual, and has an ephemeral quality that I adore." — David Bowie
"I said to myself, 'What IS this SPLATTERCELL?', and BOOM!, within a minute I was just sitting there, riveted. This guy's twisted, and I WANT twisted: Torn saved the tracks from the bin! He's 'The One'." — Jeff Beck
As a part of the Improvisation Summit of Portland 2022, Creative Music Guild presents critically acclaimed guitarist and sound sorcerer from New York City, David Torn.
David will first play a solo guitar set and then have a directed mini orchestra of these wonderful Portland-based improvisers/songwriters and composers.
Violas:
Michelle Alany
Isabel Damman
Chibia
Alexis Mahler
Cello
Harlan Silverman
Guitar
Mike Gamble
Alex Callenberger
Ryan Miller
David Torn is a guitarist, composer, recording artist, producer/mixer. (He sometimes appears as "Splattercell") With a longtime avid & active interest in hand-made electronic music, he's been known for a textural integration of live electronics into electric guitar performance, regardless of "genre"….. and the resulting manipulations of sound.
His interest in stories led him to broaden his already idiosyncratically pan-idiomatic sensibilities into films, into film-music. He's consulted on design-function of more live-looping devices than seems reasonable, as well as on other musical instruments, both electronic & otherwise.
David won 2x Guitar Player Magazine Readers Poll Awards for "Best Experimental Guitarist", & 1x Guitar Player Magazine Critics' Poll Award for "Best Outsider".
His own film-scores include Lars and The Real Girl, Friday Night Lights, Everything Must Go, That Awkward Moment, Saint John of Las Vegas, The Order (Grammy nom), The Light of the Moon, Jesus Henry Christ, waterandbirds, Tonight We Eat Flowers, etc.
Work has included recordings and/or performances w/Tim Berne, David Bowie, Carter Burwell, David Sylvian, kd lang, John Legend, Ryuichi Sakamoto, Laurie Anderson, Howard Shore, Chocolate Genius, Meshell Ndegeocello, The Pineapple Thief, Don Cherry, Mick Karn, JBK, Darius Jones, Jan Garbarek & Eberhart Weber, Matt Mitchell, Gerald Cleaver, Jeff Beck, Julie Slick, Michael Formanek, Saudade Music Collective, Kate Gentile, Prezens, Sun of Goldfinger, Cloud about Mercury, Polytown, etc.
His bands included Zobo Funn Band, Cloud about Mercury, Polytown, Prezens, Sun of Goldfinger, lovebubble (w/Will Calhoun), B.L.U.E., gtr obliq (w/Elliott Sharp & Vernon Reid), Levin/Torn/White & SONAR.
He's co-composed w/Jeff Beck (Grammy), Madonna, Donna Lewis, Mick Karn, Elijah B. Torn, Cliff Martinez, Simon Sohel TaufiQue, Mark Isham (Grammy), etc.
His textural work continues to populate many major game-scores.