Win Tickets ($20): Cult of Cunnilingus Online "Revulval" Meeting | Erotic Comedy Live on Zoom, Portland 2022 Valentine's Day Weekend, Stories of Grief, Pride & Worship
We are giving away a pair of tickets to every meeting of Cult of Cunnilingus February 11-12, 14. To win, comment below on this post why you'd like to attend. Winner will be drawn and emailed February 11.
———————————————
From our sponsors: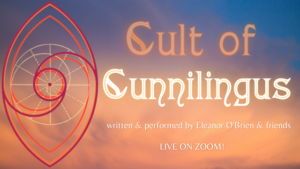 Cult of Cunnilingus
February 11-12, 14, 2022
Friday 2/11 @8pm
Saturday 2/12 @8pm
Monday 2/14 @12pm
Monday 2/14 @5pm
Monday 2/14 @8pm
$20
More info: dancenakedproductions.com
Log in on Zoom, and be swept up into the world's newest cult!
All over the globe, chapters of Plan V are popping up on zoom, spreading the gospel of Sacred Pussy! Embracing both the ancient history of Goddess Worship and the New Mythology of Inner Pussy, Plan V includes everyone in it's slippery folds. This LIVE zoom "Revulval" is opportunity to hear stories of pussy grief and pussy pride, and what it really means to worship pussy. Consent is Queen and the Goddess is alive in all of us throughout this erotic comedy. The audience can choose to participate or just come along for a wild and pleasure-filled ride.
Eleanor O'Brien has taken the medium of zoom theater to a whole new level. Weaving the immediacy of live zoom interaction with pre-recorded stories, the audience is woven into the imagined reality of Plan V, an Ethical Cult. Set during a weekly Gathering, we learn how the cult arose, and the historical precedents for its rapid accent. We hear stories from cult members about their ecstatic conversions and spontaneous healing. What is happening live and what is pre-recorded? On zoom, it's hard to tell. Imagination and reality intertwine. But you might leave hoping it's real.
Cult of Cunnilingus is the prequel to Eleanor O'Brien's hit solo show How to Really, Really? Really! Love a Woman. (prior viewing not required!)
You may leave your cameras on or off.
SHOW LENGTH – running time approximately 75-90 minutes (depending on audience involvement)
REVIEW/PRESS QUOTES FOR Cult of Cunnilingus
"Fearlessly appealing"- Bob Hicks, Oregon Arts Watch
"Brazenly vulnerable" – Marty Hughley, Oregon Arts Watch
"Sex-positive superstar Eleanor O'Brien is … sensual, soulful and uproarious" – Bennett Campbell Ferguson, Willamette Week
See the Trailer.