Win Tickets ($46): Chloe Moriondo @ Aladdin Theater | w/ Dreamer Isioma, Indie Pop
We are giving away a pair of tickets to Chloe Moriondo @ Aladdin Theater on October 23. To win, comment below on this post why you'd like to attend. Winner will be drawn and emailed October 17.
———————————————
From our sponsors: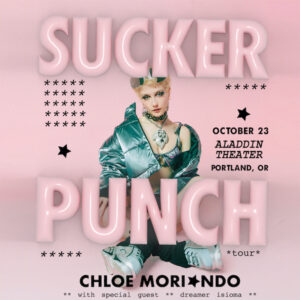 Chloe Moriondo
October 23, 2022
Doors 7PM, Show 8PM | $23 | All Ages
More info: event.etix.com
Aladdin Theater
3017 SE Milwaukie Ave, Portland, OR 97202
On her new album SUCKERPUNCH, singer/songwriter Chloe Moriondo inhabits an entire cast of unruly characters: a larger-than-life vigilante who collects ill-behaved boys like figurines, a champagne-popping Barbie doll with its hair chopped off, a champion boxer stepping into the ring in a satin pink Hello Kitty robe. Expanding on the untamed imagination and volcanic emotionality of 2021's Blood Bunny—a critically acclaimed album that landed on best-of-the-year lists from the likes of The New York Times—the 19-year-old Michigan native uses that whirlwind storytelling as a vessel for self-exploration, uncovering potent truths about self-image and obsession and the complexities of power. When matched with SUCKERPUNCH's high-voltage sound, the result is the most gloriously uninhibited work yet from a truly one-of-a-kind artist.
"As I was writing these songs I allowed myself to get a lot more free-form with the lyrics, which helped me get out of my own head and focus on creating something that felt fun and exciting," says Moriondo, who recently graced Billboard's prestigious "21 Under 21" list. "Writing from different perspectives made it so much easier to let go and stop limiting myself, and also helped me to release some things from my subconsciousness without really even trying."
The third full-length from Moriondo, SUCKERPUNCH marks a bold leap forward from the understated indie-pop and jittery pop-punk of Blood Bunny, often echoing the sheer unpredictability suggested in its title. "I've always thought boxing was a cool way to get out aggression, and I liked the idea of naming the album for something that means an unexpected hit—something you never saw coming," Moriondo notes. In shaping SUCKERPUNCH's forward-thinking and fantastically brash brand of pop, she worked with producers/co-writers like Oscar Scheller (Rina Sawayama, Charli XCX), David Pramik (Machine Gun Kelly, Oliver Tree), and Teddy Geiger (Caroline Polachek, Olivia O'Brien), embedding the album's glossed-up production with idiosyncratic details (including, at one point, beats built from the guttural roar of barking dogs). But despite that seismic shift in sonic direction, Moriondo continues to imbue each track with diarylike honesty, a quality that's earned her a global fanbase of millions in the past few years alone.
In sharing SUCKERPUNCH with the world, she hopes to leave her audience with a similar sense of lighthearted abandon. "I want people to interpret this album however they wish—take it and love it and dance with it, or sit with it and chew on it and spit it out," says Moriondo. "Mostly I hope it makes them feel empowered to do whatever the hell they want to do, and not ever worry about what other people might think."