Win Tickets ($60): Black Joe Lewis & Cedric Burnside @ Aladdin Theater | Grammy Nominated Electric Blues Guitarist
We are giving away a pair of tickets to Black Joe Lewis & Cedric Burnside @ Aladdin Theater  on January 20. To win, comment below on this post why you'd like to attend. Winner will be drawn and emailed January 17.
———————————————
From our sponsors: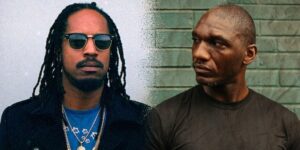 Black Joe Lewis & Cedric Burnside
January 20, 2022
Doors 7PM, Show 8PM | $30 | All Ages
More info: event.etix.com
Aladdin Theater
3017 SE Milwaukie Ave, Portland, OR 97202
Black Joe Lewis
Black Joe Lewis is the realest motherfucker there is. When Covid sidelined his touring this past year, he started laying concrete to help support his baby mama and his kid. That's fuckin' real. When Joe and his band, the Honeybears, popped onto the national stage over a decade ago, many critics embraced him but still, there were some that maintained that they hadn't paid their dues. Joe's still here. Still going. Still cashing checks and snapping necks.The dues of hard work; the delirious heights of the industry as well as the disappointments and low hanging fruit. Through this all, Joe's only honed his mastery over gut bucket blues guitar and his true voice. It's a vital and distinctly American voice that never anticipated the attention he wound up receiving, never went looking for it either. It just started happening.The garage, the blues, the propulsive and synergistic live performances that inhabit the spaces of James Brown, Lightnin' Hopkins, and the MC5…those things happened naturally from the very beginning and could only be accurately communicated in the live experience, not a press release or a slick brand campaign. Sharon Jones, Charles Bradley, Cedric Burnside and Lightnin Malcolm, The Dirtbombs, Detroit Cobras, the Strange Boys; these are some of the artists that Black Joe Lewis and the Honeybears shared countless bills with; almost a roll call of the most influential soul and garage bands of the last twenty five years. If you like whistling in your music and some floppy hat, quaky kneed dudes cloyingly singing at you,then you might not "get it" but whatever…there are enough intrepid, degenerate weirdos that do. Those are the folks Joe cares about. Not the glad handing set. Not the fair-weather friend set getting down with the flavor of the month. Like the title of his last album says,"the difference between me and you" is Joe defining for himself that there's the belabored wannabes and then there's dudes that actually "HAVE the blues"…whatever the hell THAT is! Joe's concrete pouring boss is gonna miss him.
Cedric Burnside
Take one glance at the iconic tintype photograph which serves as the cover to his new album, Benton County Relic, and you know immediately that Cedric Burnside is the real deal. "When I first saw it, I thought I looked like an outlaw," he laughs.
The 39-year-old still lives on several acres not far from the Holly Springs, Mississippi, home where he was raised by "Big Daddy," his grandfather, the late singer/songwriter/guitarist R.L. Burnside whom Cedric famously played with, just as his own father, drummer Calvin Jackson, did. Cedric was literally born to the blues, more specifically, the "rhythmically unorthodox" Hill country variant which emerged from Mississippi, where he grew up surrounded (and influenced) by Junior Kimbrough, Jessie May Hemphill and Otha Turner.
Grammy-nominated in 2015 for Best Blues Album for the Cedric Burnside Project's Descendants of Hill Country, as well as the recipient of the Blues Music Awards honor as Drummer of the Year for four consecutive years, Cedric's latest album offers a showcase for his electric and acoustic guitar, recording 26 tracks in just two days with drummer/slide guitarist Brian Jay in the latter's Brooklyn home studio in a rush of creativity.