Win Tickets ($40): Backfence PDX: Roulette @ Alberta House | High-stakes Storytelling, Hosted by Frayn Masters and Mindy Nettifee
We are giving away a pair of tickets to Backfence PDX: Roulette @ Alberta House on November 4. To win, comment below on this post why you'd like to attend. Winner will be drawn and emailed October 30.
———————————————
From our sponsors: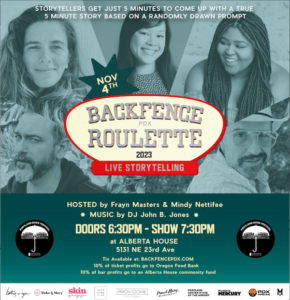 BACKFENCE PDX: ROULETTE
November 4, 2023
7:30PM | $20 | 18+
More info: backfencepdx.com
Alberta House
5131 NE 23rd Ave, Portland, OR 97211
Each show begins with a giant game show size wheel packed with juicy story prompts. One of our five seasoned storytellers is randomly drawn. To determine the random prompt for their story, they spin that giant wheel! They can play or pass their prompt (once). If they pass, another teller can steal their prompt. Then the risky part… each storyteller has only 5 minutes to come up with a true 5-minute story based on their prompt! It's like we invented a new game called truth AND dare. The audience votes on a winner at the end of the night – both the storyteller winner and one lucky audience member win a veritable bevy of prizes!
SAT NOV 4th ROULETTE STORYTELLERS!
NARIKO OTT Writer for the punk rock humor website The Hard Times Magazine, and host of the comedy Podcast, What's More Metal?. Nariko was also named Portland's Funniest Person by Helium Comedy Club. He's been on the Bridgetown Comedy Festival, 10,000 Laughs, the TreeFort Music Fest. He was also featured on EPIX's Unprotected Sets, Laughs on FOX, Spotify, SiriusXM, and iHeartRadio.
CANDACE MOLATORE is a creative director, photographer, model, and branding consultant based in Portland, OR. With over 8 years of experience in her field, Candace has developed a passion for fostering true representation in media, creating high-quality content in the digital space, and building community in her area. In her downtime, Candace enjoys being chronically online, going to movies alone and pondering about the existential endings to every Christopher Nolan movie ever made.
KATIE NGUYEN's work has been featured in The New Yorker, you can hear her stand-up on SiriusXM, and she's a regular at Helium Comedy Club. She was a writer and the host of PBS Kids' Mega Wow, and co-wrote and starred in the short film Crouching Comic. Katie teaches stand-up classes at Helium, she's thrice been named a Genius of Comedy by the Portland Mercury, and was named 2021's Portland's Funniest Person by Willamette Week. Multiple past winner!
RENEE JENKINSON lives on Mt Hood with her 9 year old kid where she teaches wilderness medicine and is 25 years into a career dedicated to connecting people with the wilds. She's guided, worked and with the wilds. She's guided, worked and taught all over the world. Right now she's interested in loving each other, the earth, and supporting collective climate grief. Renee is obsessed with Miami. Multiple past winner!
LEATHER STORRS Portland native Leather Storrs probably knows your parents. He is the cohost of the Netflix competition show: COOKED WITH CANNABIS. He is known as a storyteller on stage and on a plate, and is one of Portland's longest-cooking chefs. He serenaded Bill Murray with "Star Wars," lounge style, but the best things he's ever made are his two kids. Multiple past winner!