Win Tickets ($40): Backfence PDX Presents Roulette @ Alberta House | Live Storytelling w/ Spinning Wheel Prompt
We are giving away a pair of tickets to Roulette @ Alberta House on March 11. To win, comment below on this post why you'd like to attend. Winner will be drawn and emailed March 6.
———————————————
From our sponsors: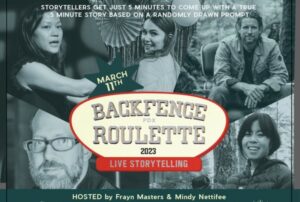 Backfence PDX: Roulette
March 11, 2023
7:30PM | GA $20, $34 VIP | 18+
More info: backfencepdx.com
Alberta House
5131 NE 23rd Ave, 97211
Come and see first show in the 2023 season at  ALBERTA HOUSE  to hear some incredible stories!
Hosted & Produced by FRAYN MASTERS & MINDY NETTIFEE
Music By DJ John B. Jones
STORYTELLERS FOR THIS ROUND
GRANT GOSCH Our Dec 3 ROULETTE winner returns! Grant has written and directed content for Nike, Intel, and other global brands. While working for large brands, his passion for storytelling translated to a weekly live storytelling performance called Live from Ocean Creek. Grant's latest novel Kingfisher Lane can be found on Amazon. He's adamantly opposed to both daylight savings time and salad spinners.
EDEN DAWN is the host of Bad Dates live talk show and Fashion in Film at the Hollywood Theater, the author of Portland Book of Dates (and manyyyy articles from her years as a journalist), and the owner of Claws Out nail polish. She was once rescued from a flash flood in Israel by being carried in the scoop of a bulldozer through the raging waters. You can read more things about her on Al Gore's Internet. She is a past ROULETTE winner!
MONICA CHOY is an artist, medicine maker, cat communicator, sometimes psychic, kitchen witch, who once crisscrossed the country in a giant tortoise tent trading objects and their stories with strangers in 33 cities. She is a past ROULETTE runner-up (by like two votes!)
KATIE NGUYEN's work has been featured in The New Yorker, you can hear her stand-up on SiriusXM, and she's a regular at Helium Comedy Club. She was a writer and the host of PBS Kids' Mega Wow, and co-wrote and starred in the short film Crouching Comic. Katie teaches stand-up classes at Helium, she's thrice been named a Genius of Comedy by the Portland Mercury, and was named 2021's Portland's Funniest Person by Willamette Week.
DAYVID FIGLER is an attorney, writer, former judge, lead screamer in a punk-rock polka band, and podcast host. Conceived, raised, and still evolving in the fabulous anomaly of Las Vegas, he was inconveniently born somewhere else which is a constant source of mockery from the Vegas-born contingent of ruffians, hustlers, and desert landscaping elders. In 2019, the State Bar of Nevada awarded him the prestigious Medal of Justice for legal innovations to help both people with problem gambling disorders and the population of folks who are unhoused in a sometimes unforgiving city. He never misses a chance to promote his daily podcast, lasvegas.citycast.fm
How does BACKFENCE PDX: ROULETTE work? Each show begins with a giant game show size wheel packed with juicy story prompts. One of our five seasoned storytellers is randomly drawn. To determine the random prompt for their story, they spin that giant wheel! They can play or pass their prompt (once). If they pass, another teller can steal their prompt. Then the risky part… each storyteller has only 5 minutes to come up with a true 5-minute story based on their prompt! It's like we invented a new game called truth AND dare. The audience votes on a winner at the end of the night – both the storyteller winner and one lucky audience member win a veritable bevy of prizes! We'll have some other new surprises for 2023 shows!