Win Tickets ($50): An Evening with North Mississippi Allstars: Set Sail 2022 Tour @ Aladdin Theater | Blues, Southern Rock
We are giving away a pair of tickets to An Evening with North Mississippi Allstars: Set Sail 2022 Tour @ Aladdin Theater on February 11. To win, comment below on this post why you'd like to attend. Winner will be drawn and emailed February 7.
———————————————
From our sponsors: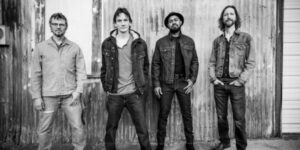 North Mississippi Allstars: Set Sail Tour
February 11, 2022
Doors 8PM, Show 9PM | $25 | All Ages
More info: event.etix.com
Aladdin Theater
3017 SE Milwaukie Ave, Portland, OR 97202
Nothing runs deeper than family ties. Brothers, sisters, fathers, mothers, sons, and daughters understand one another at the purest level. When families rally around music, they speak this oft-unspoken bond aloud and into existence. After 25 years, twelve albums, four GRAMMY® Award nominations, and sold out shows everywhere, North Mississippi Allstars open up their world once again on their thirteenth album, Set Sail [New West Records], welcoming other family (by blood and by the road) into the fold. As legend has it, Luther and Cody Dickinson started the band in 1996 as a loose collective of like-minded second-generation musicians who shared a local repertoire and regional style. Over the years, the lineup shifted by design, and each subsequent record offered up a different combination of collaborators. This time around, they mined the talents of Jesse Williams on bass and Lamar Williams, JR. on vocals. During the Allman Betts Band Family Revival, the Dickinsons first linked up with Lamar, son of the Allman Brothers bassist Lamar Williams, Sr., becoming fast friends and collaborators and eventually paving the way for Set Sail.
"The chemistry we have with this lineup is powerful," observes Luther. "We are all second-generation musicians and share a telepathic, relaxed ease about creating and performing. I believe music is a form of communion with our loved ones and conjuring this vibe with members of musical families can be inspirational. Lamar and I are like-minded. I've never had the pleasure of working with a singing partner like Lamar. He has a true-blue quality in his musicality that will pull you in and break your heart. At the same time, Jesse grew up playing music with his brothers and his father—as did we. He plays like a sibling. We recorded the album fresh off the road and captured the energy we had worked up with him. I'm drawn to musical families, regardless of style. Playing with second- or third-generation players allows us an easy unspoken musical dialog. It's not a big thing; it's just what we do. We never had to figure out what it means and takes to be a musician. We all inherently know."
They picked up this wisdom by osmosis. As sons of legendary producer and musician Jim Dickinson, Luther and Cody have been producing records themselves since they were teenagers. Separately, the brothers have produced albums by Samantha Fish, R.L. Boyce, Lucero, Amy Lavere, the Birds of Chicago, Ian Segal, and more. Luther produced two records from Otha Turner, including Everybody Hollerin' Goat, which was named one of the ten most important blues albums of the nineties. Luther and Cody co-produce North Mississippi Allstars records as the "Dickinson Brothers."
They forge ahead always as a family, first and foremost. "North Mississippi Allstars means family," Cody concludes. "I get the joy of working with my brother. Our families keep growing too. There's a sense of history. The older I get, the more I realize how important it is to record this music, so younger kids can hear it. I just want to make sure we pass it on. It's a huge honor to be a part of this tradition."