Whoopee! A Sex-Positive Variety Show in Portland | Streaming Live! Featuring Dance, Burlesque & More!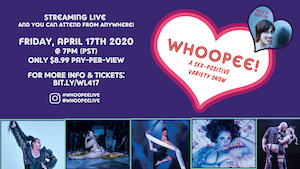 Whoopee! A Sex Positive Variety Show
April 17, 2020
Streaming Starts at 7p | $9 | 18+
More info: http://bit.ly/WL417
Whoopee is adapting to the current covid-19 pandemic situation, by live streaming our famous sex positive variety show.
Whoopee! was conceived in 2016, during a time of uncertainty and big feelings, to empower our queer and sex-positive communities. It's time to let our performers share their voices, sexuality, talent, and vulnerability, and bring us all together once again. Many artists in our community have lost their main source of income due to this pandemic and truly miss performing. This online show will help support them and hopefully provide you joy, arousal, and inspiration!
We'll be back on a live stage in front of Portland audiences as soon as possible but until then want to offer you some entertainment and sensual visual excitement.