Vibe Comedy Stand Up Showcase @ Curious Comedy Theater | Featuring Skyler Higley (CONAN, The Onion), Hosted by Jaren George & Marietje Hauprich
From our sponsors: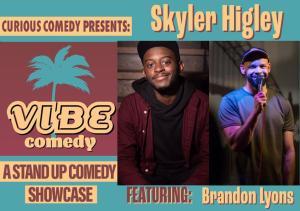 Vibe Comedy Stand Up Showcase
September 17, 2022
9:30-11:30PM | $15 | All Ages
More info: showclix.com
Curious Comedy Theater
5225 Northeast Martin Luther King Junior Boulevard
Portland, OR 97211
Curious Comedy presents VIBE COMEDY, Portland's freshest stand-up comedy showcase featuring the best up-and-coming comics you should – and will – know! Hosted by Bjorn Ryan-Gorman, Jaren George, and Marietje Hauprich, this monthly show is guaranteed to make you laugh. Hard.
Headliner: Sklyer Higley (Conan, The Onion, 2022 JFL New Faces)
Featuring: Brandon Lyons (Helium PDX, Al's Den Comedy Showcase)
Hosted by Bjorn Ryan-Gorman, Jaren George, and Marietje Hauprich
HEADLINER Skyler Higley:
Skyler Higley is a stand-up and writer who has written for and appeared on CONAN, and is a current staff writer for the Onion. As an African-American adoptee of white parents and raised religious, Skyler's unique upbringing offers him hilarious, incisive takes on race, religion, and the absurdities of modern culture. As one of Chicago's top comedians, Skyler is ready to take his talents to comedy's biggest stages.
FEATURING Brandon Lyons:
Brandon Lyons is a comedian who was born and raised in California and now lives in Portland. He does stand-up. Mostly light-hearted stuff about pop culture and race in America (that can be light-hearted, right?). He hosts comedy nights at Helium and Al's Den, (the longest running show in Portland) and has the best jump shot in Portland comedy.
YOUR VIBE STAND UP COMEDY HOSTS:
Marietje Hauprich
Marietje (muh-ree-chah) is a standup comic based in Portland, OR. She grew up in the rough streets of New York. The state not the city. Upstate. Dirt streets. Woods. She draws from her life experiences and is a dedicated helicopter mom to four cats. Her style is best described as captivatingly awkward, yet whimsical. She is a host at Helium Comedy Club and producer of the Sorry Not Sorry show.
Jaren George
Born and raised in New York City, Jaren is a comedian based in Portland, OR. He just wants you (the audience) to be engaged and feed off his intensely high charismatic ways. Jaren's style for jokes can only be described as "energetic storytelling" with a second main entree of "Ah, I see what he did there" because he spoils you. Jaren performed at 2020 Sketchfest, 2019 DC Comedy Festival, NW Black Comedy Festival, 2021 Albuquerque Funny Fiesta, and host of the podcast, IT Pod Desk. He also produces shows like Optimism!, Comedy: The Musical, and Spec Script. You can catch him doing other shows around the Northwest Pacific. You can see him walking around in the hit TV show Shrill. Your cat adores him.
Bjorn Ryan-Gorman
This country club moved from Montana to the big city and started doing standup comedy in 2012. Bjorn's confident yet sarcastic storytelling approach to comedy has him captivating the Portland comedy scene. His wealth of stories come from the unique background growing up as a LGBT skateboarder from Montana.