Triviology TeleQuizzery! in Portland w/ ShanRock's Triviology | Play Live Interactive Trivia w/ Your Phone or Computer By Yourself or with a Team!
From our sponsors: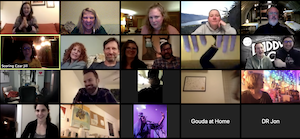 Triviology TeleQuizzery!
Live Interactive Trivia!
$20 per team; max team size = 5
$10 per solo player
Prizes for the champs!
More info: shanrockstrivia.com
Tuesdays at 8:00 (but 4/7 is already sold out!)
Wednesdays at 7:00
Thursdays at 7:00
Other days and times available upon request!
Quizzery in the time of Coronavirus! The show must go on, so we have launched a live, interactive TeleQuiz which you can play on your phone, computer or tablet via Zoom. This new way to play Triviology still allows you to see and interact with other teams; it's just not pub quizzery without trash talking and hilarious wrong answers!
You can either play solo or have as many as five people on your team, and your crew does NOT have to be in the same room to play together. To join an already scheduled quiz, or to book one on your own time, contact [email protected]. I recommend reserving a spot early, as the games often sell out; to maintain the quality of your experience, I do put a cap on the number of teams. Let's have some fun; we deserve it!