DJ Anjali and The Incredible Kid Host Global Bass/Bhangra Dance Parties Every Saturday Night! | Virtual Streaming via Facebook Twitch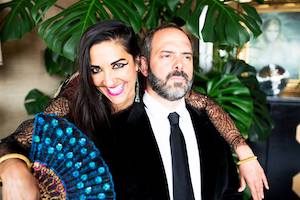 Bass/Bhangra Dance Parties w/ DJ Anjali and The Incredible Kid
Saturday Nights 9P-Midnight
More info: anjaliandthekid.com
While all their physical dance parties are canceled, DJ Anjali and The Incredible Kid will host Global Bass/Bhangra dance parties every Saturday night from their Batcave at https://www.facebook.com/Anjaliandthekid and https://www.twitch.tv/anjaliandthekid (with better sound and less chance of interruption) from 9PM-Midnight.
DJ Anjali and The Incredible Kid have spent more than nineteen years igniting dance floors with cutting edge music not limited by borders or language. They host the longest-running Bhangra and Bollywood party in the world (Andaz est. 2002), co-founded the Pacific Northwest's first Global Bass dance party (Atlas 2003-2013) and host two weekly radio shows (CHOR BAZAAR on XRAY.FM and Kabhi Khushi Kabhie Kush on KBOO.FM.) In 2013 Anjali and The Kid initiated TROPITAAL! A Desi Latino Soundclash, which they host monthly at The Goodfoot.
Few DJs can be said to have changed the sound of their city but that is exactly what DJ Anjali and The Incredible Kid have accomplished since they first introduced Portland, Oregon nightclub audiences to the many varied sounds of Global Bass at a raucous New Year's Eve debut in 2000. They are most known for incinerating dance floors with the heavy dance floor artillery of South Asia, but the duo scour the globe for any hard-hitting music that combines local music traditions with window-rattling production.