The Theatre Company presents The Moors & Vinegar Tom | Fully Produced Podcast, Witchy Women, Dangerous Pets, Dysfunctional Victorians
From our sponsors: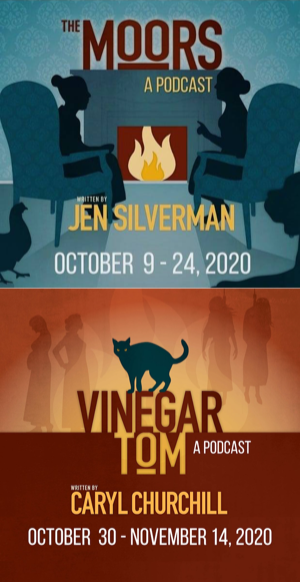 The Theatre Company presents The Moors & Vinegar Tom
October 9 – November 14, 2020
$10 | More info: thetheatreco.org
The Theatre Company presents a re-imagined cozy but revolutionary 2020 season featuring fully produced podcast recordings of The Moors by Jen Silverman and Vinegar Tom by Caryl Churchill. Silverman's twisted Victorian Gothic and Churchill's modern critique of 17th century femme witchiness are yours, in the comfort of your own home. Turn off your screens, make a pot of soup, turn up the volume, and take down the patriarchy.
The Moors, a bold, theatrical satire by Jen Silverman, takes us on a wild ride through the beautiful and the dangerous while upending gender politics. Sisters Agatha and Huldey reside on the bleak English Moors. Their Mastiff has a bad case of ennui. The maid has strategic multiple personalities. A crash-landed Moor-Hen can't remember anything. A young governess has just arrived from London. The rooms in the house all look strikingly similar. And no one can seem to find Master Branwell. This Brontë-inspired gothic is Grey Gardens meets American Horror Story meets Calvin & Hobbes. The rules are always changing, and that's the only thing anyone can rely on. Brandon Woolley directs a cast featuring Lorraine Bahr, Paul Glazier, Kelly Godell, Dana Millican, Sasha Neufeld, and Jen Rowe. Streaming October 9 – 24.
Vinegar Tom, Caryl Churchill's response to uncompromising systems of patriarchy both past and present, centers on unconventional women in a 17th century rural town. Their scandalous and inexcusable behavior includes sleeping with a stranger, owning an old cat, cursing at the neighbors, and disinterest in marriage and children. Steeped in a landscape of pride, poverty and prejudice, the question persists – what makes a witch? This play with music, born out of the second wave feminist movement of the 60's and 70's, is The Crucible meets Oooo Hooo Witchay Woman meets Handmaid's Tale. Jen Rowe directs a cast featuring Chris Harder, Treasure Lunan, Julana Torres, Morgan Cox, Alanna Fagan, Ashley Mellinger, Sam Dinkowitz, Jessica Tidd, Diane Kondrat, and Ken Yoshikawa. Streaming October 30 – November 14.
Tickets for each streaming podcast are $10. Ticket holders will be given access to the password protected podcast via the TTC website. Tickets and more information available at thetheatreco.org.