Romano Law Offering Free Sober Rides in Portland for Halloween 2020 & New Years Eve | Reimbursement Available for Taxi or Ride Share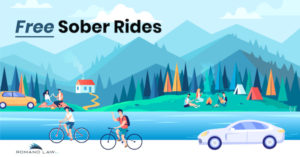 Romano Law Offering Free Sober Rides
October 31, & December 31, 2020
More info: romanolawpc.com
Location: 111 S.W. Fifth Avenue, Suite 3150, Portland, Oregon 97204
Romano Law is offering free, safe transportation home!
According to the CDC, 29 Americans die as a result of a drunk driving car crash every day. This number can be even bigger when people are celebrating holidays and nationwide events.
At Romano Law, we are all too familiar with these cases and the devastating impacts they have on a victim's loved ones.
So, during select 2020 holidays, we want to do our part and offer free sober rides to help keep the community safe. Even if we are able to prevent one DUI accident, that is money well spent and a win for us all.

How does the Romano Law Sober Rides Program Work?
If you have been drinking, don't drive under any circumstances. Instead, call a taxi or ride-sharing service, and our firm will pay for your ride home. Simply book your ride and pay the driver, and we will reimburse you via PayPal.
Sober rides are available for the holidays below in 2020.
2020 Qualifying Holidays:
Halloween – Saturday October 31, 2020
New Years Eve – Thursday, December 31, 2020
Details of the Program
Rides must be in the Portland or Bend metro areas
Ride must originate from a bar, restaurant, or place where alcohol is served
Rides must be taken between 5:00pm on the day of the holiday and 10:00am the next morning
You must be of legal drinking age to qualify (21 and over)
Valid for one, one-way ride home
Limit one reimbursement per household
A maximum value of $30.00
The maximum value includes a tip of up to 10%. Anything above a 10% tip on the base fare will not be reimbursed.
Participation in this promotion is limited to the first 50 submissions
Mail your printout of a screenshot of your Lyft/Uber charge or a printed taxi receipt, a photocopy of your driver's license, and your PayPal email address to:
Romano Law, P.C.
Attn: Sober Rides Reimbursement
12725 SW Millikan Way Suite 300, Beaverton, Oregon 97005
---
PDX Pipeline Free Community Promotions
This is a FREE local listing provided by PDX Pipeline. Do you have a local business and want a free promotion? Fill out our form here: pdxpipeline.com/local