We Rise Together: a Virtual Fundraiser for The Insight Alliance | Focusing on Re-Imagining the Criminal Justice System
From our sponsors: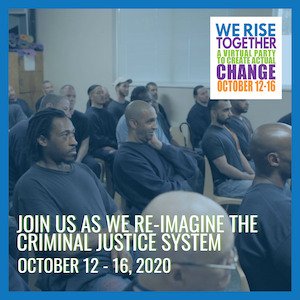 We Rise Together: a Virtual Fundraiser for The Insight Alliance
October 12-16, 2020
More info: theinsightalliance.org
The Insight Alliance, a Portland-based nonprofit, is gearing up for a week-long virtual event focused on re-imagining the criminal justice system. 'We Rise Together' will take place online from Monday, October 12 to Friday, October 16.
There will be multiple happenings including an educational series focused on the criminal justice system, a live auction, cooking class, benefit concert and more. All proceeds from the event will support our programs and projects that are focused on transforming the lives of adults and youth in custody and on parole. Many thanks to our event sponsors: New Seasons Market, Reverend Nat's Hard Cider, MeyerPro, Rapid Response Bio Clean, Green Hammer Design Build, American SaniCan, and The Whole Bowl.
You can expect to hear from a range of people from Senator Ron Wyden to Commissioner Jo Ann Hardesty to Bobbin Singh, Executive Director of the Oregon Justice Resource Center. Additionally, the talented Thunderstorm Artis, Jermaine, Folsom 50, Megan Diana McGeorge, and Poet Mr Gee, from The Secret Life of Prisons, will be performing during the benefit concert scheduled for Friday, October 16.
Many of the events happening during the week are free and will be livestreamed to make participation easy. A few events have a ticket price associated, such as the Cooking Class with Chef Greg Denton of Ox. You can see a full schedule of events and ticket prices at theinsightalliance.org.