The Goodfoot Pub & Lounge & Poboy Present Virtual Portland Last Thursday June Art Opening | View & Purchase Art Online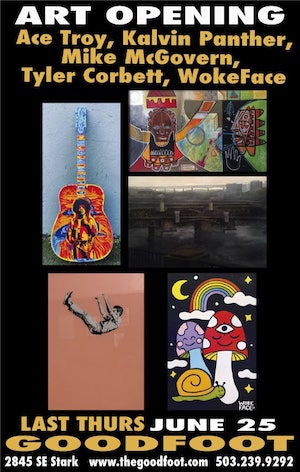 Last Thursday Art Opening
Featuring Ace Troy, Kalvin Panther, Mike McGovern, Tyler Corbett
Art Available to purchase June 25, 2020
All Ages
More info: poboyart.com
The Goodfoot will have an art opening on last Thurs June 25 –  you can view the art online here
This month's artists are Ace Troy, Kalvin Panther, Mike McGovern, Tyler Corbett
Ace Troy
is a Portland born & raised trans artist. He thinks Black Lives Matter and that All Cops Are Bastards. He mostly makes pop art with a focus on spray paint as a medium.
Kalvin Panther
is a multimedia artist who's hand drawn/painted works blend elements of pop art and graphic design. He searches out images he finds beautiful and recreates them in his vision using mostly paint pens, house paint, polyurethane and sheetrock. Pieces are set into found frames he is constantly hunting down. Subjects range from iconic cultural figures to the man on the street to the cat on his lap.
Panther was born in Oregon and currently resides in Southeast Portland with Bearkitty.
Michael McGovern
was born and raised in Portland, Oregon and holds a MFA in Printmaking from Northern Illinois University and a BFA in Photography from Pacific Northwest College of Art. Since 2009 McGovern has been rooted in Portland Oregon where he teaches printmaking and digital photography at Portland Community College, Rock Creek. Michael McGovern is also half of the artist collaborative team, OWL CAT INK, with his wife Roxanne McGovern. The duo stared their collaborative explorations in 2010 and continue to work together creating mixed media collages, drawings, paintings and prints.
" My work is about constructing autobiographical images that explore the ghosts and spirits of my past while preserving memories that seem to fade with each passing year. I compose memorials to intangible memories by visually recording impressions of specific times, places, and events in My work calls upon the repetitive nature of printmaking and photography mixed with the autographic marks of drawing and painting to create a network of reoccurring images that I can meditate on to help search for a truth. I use a lexicon of images that relate to specific events in my history. All my images carry a personal biography, but also carry the weight of their own metaphors helping to furnish an ever-growing complex narrative that melds ambiguity with self-portrayal. "
Tyler Corbett
My work is often a documentation of my physical surroundings, both built and natural forms. Having lived and worked in Portland, OR for nearly twenty years, my work is almost exclusively about the buildings, bridges, roadways, rivers, mountains and forests of this area. Through these pursuits and over time, I have observed how the landscape has transformed, and how my work no longer represented actual places and instead became about the history of that place. Now, I cannot help but consider the impermanent nature of the landscapes I paint and am further compelled me to seek out places in active transformation. Some works are straightforward representations that depict a literal moment during this process and others become surreal impressions, guided more by the feeling of disorientation caused by a world in flux.