DUO Open Daily at PSU Campus in Downtown Portland | Waffle Sandwiches, Ice Cream Sandwiches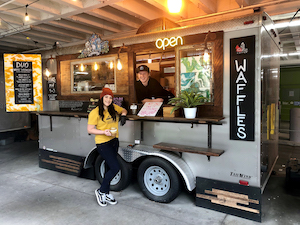 DUO
Monday through Friday 9a-3p
Check website or social media for hours updates
More info: duopdx.com
Location: 510 SW Harrison Ave Portland Oregon 97201
Under the PSU University Center building between Olé Latte Coffee Cart and La Casita Mexican Grill.
The tables are out and summer's a perfect time to sit outside and have a meal in Downtown Portland. Duo is serving up waffle sandwiches daily at PSU campus.
Duo's menu features light & crispy waffle sandwiches. They have a set menu of breakfast sandwiches like the "Harley Q" (Sunnyside Egg, Bacon, House Made American Cheese & Secret Sauce.) As well as lunch items like the "Up To No Gouda" (Bacon, Gouda, Fig Onion Jam.) Their signature House Made Pistachio Butter is ground for 12 hours and can be found on the "Green Bananza." Customers are able to change things up if they'd like for example, our "Brocc On The Wild Side" (Broccali, Cheddar, Goat Cheese, Caramelized Onions) can be turned into a "Brunch Brocc" by adding an Egg and/or Bacon.
Duo has weekly specials. A recent one was a Hawaiian special, the "Tropical Itch" (Teriyaki Glazed Spam, Sunnyside Egg, Grilled Pineapple, Nori, Chive & Pineapple Habanero Salsa! Their newest creation is a collaboration with Mikiko Mochi Donuts, featuring their Mochi Batter to make Mini Mochi Waffle Ice Cream Sandwiches with rotating flavors! Hours of operation are Monday through Friday 9-3, hours/day's will be extending soon!
They have a pay it forward system where customers are able to donate a sandwich to someone in need. At the end of the month, Duo tallies up donations and announce on their Instagram how many free sandwiches they're able to giveaway. They also do Instagram giveaways and will be giving all PSU students 10% off when school is back in session. They like to support their community and raise awareness to important matters. Recently they offered 10% off to all protestors with signs.
---
PDX Pipeline Free Community Promotions
This is a FREE local listing provided by PDX Pipeline. Do you have a local business and want a free promotion? Fill out our form here: pdxpipeline.com/local