The Goodfoot Pub & Lounge Hosts Virtual Portland Last Thursday April Art Opening | View & Purchase Art Online
The Goodfoot is is doing an online showing of artists for April Last Thursday – you can view and purchase their work online.
————–
Related Portland Events & Info
————–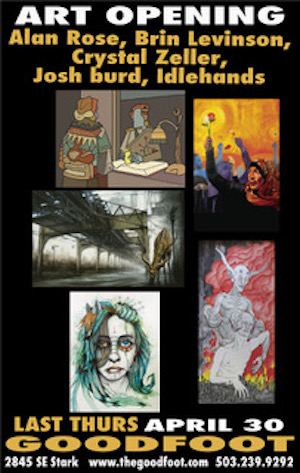 Last Thursday Art Opening
Featuring Brin Levinson, Crystal Zeller, Alan Rose, Josh burd, Idle hands
All Ages
More info: poboyart.com
The Goodfoot will have an art opening on last Thurs April 30th you can view there art online here
This months artists are Brin Levinson, Crystal Zeller, Alan Rose, Josh burd, Idle hands
Alan Rose
was born and raised in rural Nebraska. After a stint in the Navy, he moved to Chicago where he attended the School of The Art Institute of Chicago. Over the years he held a variety of jobs but finally settled into the graphic design/illustration field, working mainly in the Pacific Northwest. For the past 12 years Alan has been a full-time painter in Portland. Alan's paintings depict everyday Americana, but with a quirky, offbeat point of view. He begins by making quick, scribbly drawings in sketchbooks until an interesting image and concept emerge. He looks for the right balance of seriousness, silliness and ambiguity. When he begins to apply paint to the canvas, his technique becomes more constrained and precise. His flat, cartoony and controlled imagery suits his preference for edgy but droll humor.
Brin Levinson
An unfinished dream is something you can become obsessed with. I attempt to create an open-endedness to the stories in my paintings. There is a luring mystery in a moment recorded by only one picture. My artwork is largely inspired by industrial areas, architecture and the strange beauty that I see all around. By altering our recognizable world, I attempt to create a heightened reality instilled with nostalgia and deja vu. I find the juxtaposition of urban landscapes and nature much more interesting than either one element on it's own. These days there is a clear divide between the natural world and the human one. As we destroy nature at a staggering pace on this planet, nature slowly tries to reclaim everything and eventually it will. The proof of that is the cracks in the pavement. My current works are acrylic and oil paintings on canvas. What I love about painting is the ability to build a visual image completely from scratch. I combine fragments of realism and imagination in my compositions to create a world balanced on the edge of familiar and foreign. My grandmother, Dagmar Wilson, was a landscape painter in Loudoun County, Virginia. Being surrounded by her work has influenced my vision, especially my paintings of buildings and cityscapes. My artwork can be seen in galleries, art venues and events in Portland, the Northwest, and California.
Crystal Zeller
What does it mean to 'live' and 'be' peace? To be a light in the darkness? How can we embody truths spoken and lived by the spiritual leaders who have come before us, shedding light on The Way? My Dalai Lama painting marked the beginning of my personal investigation into a series of painting portraits of spiritual and political leaders who have lived light, embodied peace and influenced their communities in deep and meaningful ways. All of these individuals have inspired others and initiated positive change, even through great hardship. Although they represent different communities and religions from around the world, their messages, in unity, speak truth and light into the darkness. Currently I am enjoying working on individual commissioned paintings of pets and people. I enjoy the challenge of working from multiple photos and inventing a background that fits the theme or vision of the client.
Idlehands
I have been making art most of my life, beginning with teaching myself to draw portraits as a teen. I still love drawing anatomy and faces and the majority of my work is based around that theme. As I got older I began inventing different things and really enjoyed coming up with different variations of demon and monster faces. Now I work mainly in gouache and pen and ink which allows me to create the linework I enjoy as well as adding mood with the colors of gouache. Aside from drawing, I also dabble in screen printing and camping in Oregon's beautiful forests, and my soundtrack for all those activities is typically death metal.
Joshua Burd
I do work because its the only thing that has ever made me feel perfect. Never lets me down, although I have let art down from time to time. I paint for other people. Interpretation is in the eye of the beholder, and everyone in the world connects with a painting at a different level. I love that. My primary focus tends to be animals, although I venture into a multitude of subject matter. Animals(especially cats) hold all the same qualities as humans, but without all the schmuck. They are completely true to themselves. My goal as an artist has always been to remain true to myself and what I want my work to be. My name is Joshua Burd, and you can find more of my work at behance.net/JoshuaBurd.