Cool Art House Donating Up to 50% of Art Sales to Feeding America | Virtual Tour, Originals, Paper, Metal, Wood, Preview w/ Augmented Reality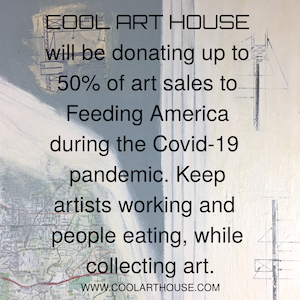 Cool Art House Donates to Feeding America
More info: CoolArtHouse.com
Cool Art House, a hip online art gallery based in the Portland area, announces their way of contributing to the Covid-19 Pandemic by donating up to 50% of art sales to Feeding America. Cool Art House was designed as a single destination for every Art Collector's budget; from the newbie, to the established Art Collector who is looking for new up and coming artists. Take a virtual tour from the comforts of your own home, and feel great about your art investment. WIN – WIN – WIN!
During this unprecedented time, Cool Art House has pledged to donate a large portion of their Art Sales to Feeding America; keeping people eating, artists working and collecting cool art for those walls you have been staring at!
In search of an art piece, they offer originals and customizable giclee reproductions on paper, metal, or wood. One of the coolest features of the site is that customers can preview their potential art investment up on their own wall before they purchase, with a cutting-edge virtual technology called Augmented Reality.
Follow us on Instagram to stay connected: @CoolArtHouse