Quell the Swell with Spin Laundry Lounge! | Curbside Laundry Drop Off, Self Service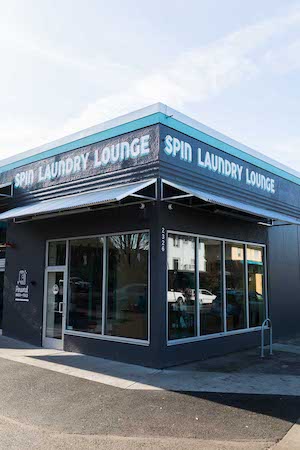 Quell the Swell with Spin
Register for curbside service at spinlaundrylounge.com/personalwf
Spin Fremont / 750 N Fremont
Open for Self Service laundry only
7 Days a week, 8am-7pm / last load by 7pm, doors lock at 8pm
Spin Broadway / 2326 NE Broadway
Open for Self Service / Wash-Dry-Pack / Wash & Fold
7 days a week / 8AM-7PM/ last load by 7pm, doors lock at 8pm
In an effort to quell the swell we've closed to the public and have put systems into place to keep our processes safe for our customers and for our staff. We're welcoming walk-up and drive through drop off service, too.
How our Curbside Laundry Drop Off Services Work
Please pull up in vehicle or on foot and wait in front of auto door/outside for attendant.
Attendant will be there to greet you and gather your information including name, phone, email, and wash and dry preferences.
Save time visit our website to pre-register for laundry drop off service before you arrive.
If your laundry is not in a washable bag, you will be given a red Spin bag to put your items in and you will keep your bag or basket.
If items inside bags need to be sorted, you must do that in your car or outside. You can use our red Spin bag(s) to make that easier.
Laundry will be brought inside and weighed. The scale weight is viewable from outside.
Attendant will take payment. Gratuity is always appreciated! Card on File authorization form will be emailed after your first order for future use. Customers who pre-register on our site will be emailed the Card on File form ahead of time for no-contact payment ease!
You can pick up anytime between 8am-7pm after receiving the text or email that your order is ready.
Wash & Fold
$1.75/lb – ready in 48 hours
$2.75/lb – ready in 24 hours
Wash Dry Pack
SMALL: Under 15lb / washed in an 18lb washer: $10
MEDIUM: Between 15lb – 30lb / washed in a 30lb washer: $12
LARGE: Between 30lb -70lb / washed in a 60lb or 75lb washer: $18
Each bag gets washed together and dried together. You can combine bags together to meet certain poundage limits above. Customers can choose from Cold, Delicate Cold, Warm, Delicate Warm, or Hot (no specialty cycles at this time) and Low, Medium or High (excludes no heat). During this time, we recommend WARM Wash and HIGH Dry. This service does not include folding. Items will be put back in laundry bag (if bag was washed during cycle) or into a clean plastic bag.
Business Wash and Fold / (pre-approved)
$1.25lb + 15lb minimum + 48 hr turn around
Personal Wash and Fold
$1.75lb + 15lb minimum + 48 hr turn around
Thank you so much for your support and patience during these tough times. We'll get through this together PDX!
---
PDX Pipeline Free Community Promotions
This is a FREE local listing provided by PDX Pipeline. Do you have a local business and want a free promotion? Fill out our form here: pdxpipeline.com/local